New Festival Rolling Hills Brings Fat Freddy's Drop, Katchafire And More To Queensland In March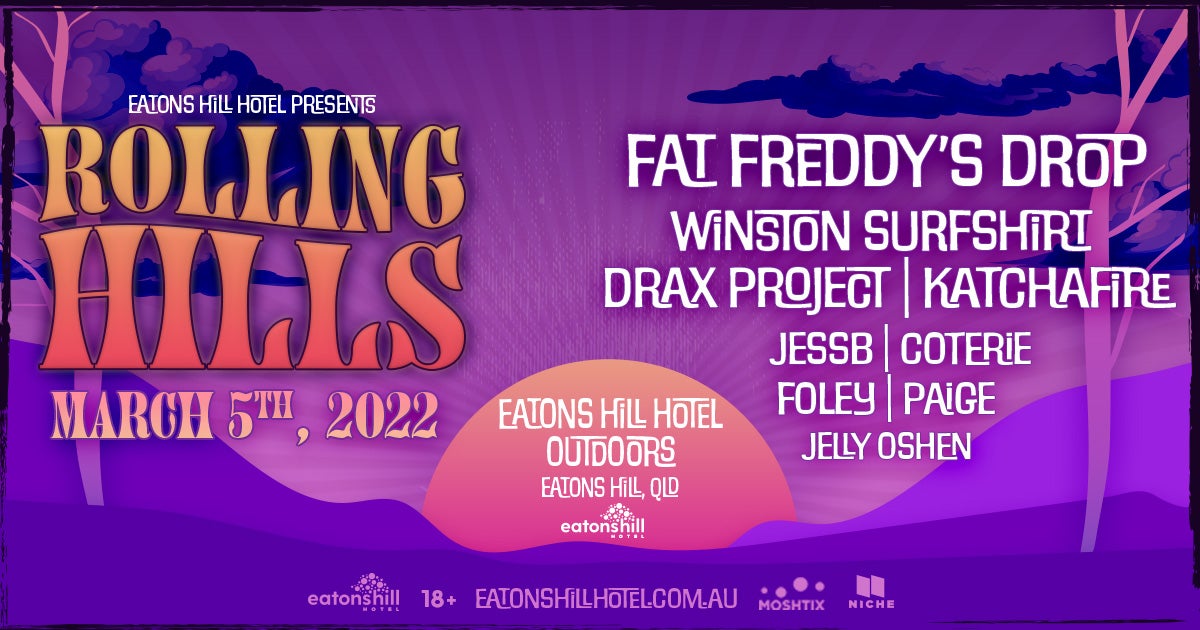 Heads up Queensland, you're getting a brand spankin' new festival next March. Eatons Hill Hotel has today announced the launch of the first annual Rolling Hills festival, set to take place on March 5th 2022.
The festival will showcase talent from around Australia and New Zealand, including headliner Fat Freddy's Drop, who return for their first Aus show since the pandemic began, plus surf-rockers Winston Surfshirt, New Zealand feel-good pop band Drax Project, and all Maori roots reggae band Katchafire!
Also joining the line-up are some of ANZ's finest - JessB, Coterie, Foley, Paige and Jelly Oshen.
Tickets for Rolling Hills go on sale from 8.30am Wednesday 29 September, so gather your crew & save the date - you won't want to miss this!
Rolling Hills Festival
5 March 2022 | Eatons Hill Hotel, QLD
FOR MORE BREAKING NEWS CLICK HERE
[{"Title":"Introducing Monolith Festival: One Stage, Seven Acts And No Clashes","ShortTitle":"Introducing Monolith...","Content":"\u003cp\u003eA brand new touring festival is set to erupt in an explosion of prog, rock and metal sounds across four epic outdoor venues in March/April 2022, and for\u0026nbsp;the very first time in seventeen years, Aussie rock icons \u003cstrong\u003eKarnivool\u003c/strong\u003e and \u003cstrong\u003eCOG\u003c/strong\u003e will tour together on the same lineup.\u003c/p\u003e\u003cp\u003eThe two bands will also be joined by \u003cstrong\u003eOcean Grove\u003c/strong\u003e, \u003cstrong\u003ePlini\u003c/strong\u003e, \u003cstrong\u003eSleepmakeswaves\u003c/strong\u003e, \u003cstrong\u003eReliqa\u003c/strong\u003e and \u003cstrong\u003eYomi Ship\u003c/strong\u003e.\u0026nbsp;\u003c/p\u003e\u003cp\u003eMonolith Festival kicks off in Sydney on Saturday 12 March before heading to Brisbane and Melbourne before wrapping up at Perth\u0027s Red Hill Auditorium on Saturday 9 April.\u003c/p\u003e\u003cp\u003eTickets for Monolith Festival are on sale now. Check out the full lineup and ticket info below.\u003c/p\u003e\u003cp\u003e\u003cbr\u003e\u003c/p\u003e\u003ch1 style=\"text-align: center;\" data-mce-style=\"text-align: center;\"\u003eMonolith Festival\u003c/h1\u003e\u003cp style=\"text-align: center;\" data-mce-style=\"text-align: center;\"\u003eKarnivool | COG | Ocean Grove | Plini\u003c/p\u003e\u003cp style=\"text-align: center;\" data-mce-style=\"text-align: center;\"\u003esleepmakeswaves | Reliqa | Yomi Ship\u003c/p\u003e\u003cp style=\"text-align: center;\" data-mce-style=\"text-align: center;\"\u003e\u003cbr\u003e\u003c/p\u003e\u003cp style=\"text-align: center;\" data-mce-style=\"text-align: center;\"\u003e\u003cstrong\u003eSat 12 March 2022 | \u003ca href=\"https://www.ticketmaster.com.au/monolith-festival-bella-vista-12-03-2022/event/13005B73E53AD685?camefrom=cfc_au_mosh\" target=\"_blank\" data-mce-href=\"https://www.ticketmaster.com.au/monolith-festival-bella-vista-12-03-2022/event/13005B73E53AD685?camefrom=cfc_au_mosh\"\u003eBella Vista Farm, NSW\u003c/a\u003e\u003c/strong\u003e\u003c/p\u003e\u003cp style=\"text-align: center;\" data-mce-style=\"text-align: center;\"\u003e\u003cstrong\u003eSat 19 March 2022 | \u003ca href=\"https://www.ticketmaster.com.au/monolith-festival-eatons-hill-19-03-2022/event/13005B73E66BD6A0?camefrom=cfc_au_mosh\" target=\"_blank\" data-mce-href=\"https://www.ticketmaster.com.au/monolith-festival-eatons-hill-19-03-2022/event/13005B73E66BD6A0?camefrom=cfc_au_mosh\"\u003eEatons Hill Hotel, QLD\u003c/a\u003e\u003c/strong\u003e\u003c/p\u003e\u003cp style=\"text-align: center;\" data-mce-style=\"text-align: center;\"\u003e\u003cstrong\u003eSat 2 April 2022 | \u003ca href=\"https://www.ticketmaster.com.au/monolith-festival-burnley-09-04-2022/event/25005B73E3E04731?camefrom=cfc_au_mosh\" target=\"_blank\" data-mce-href=\"https://www.ticketmaster.com.au/monolith-festival-burnley-09-04-2022/event/25005B73E3E04731?camefrom=cfc_au_mosh\"\u003eReunion Park, Burnley, VIC\u003c/a\u003e\u003c/strong\u003e\u003c/p\u003e\u003cp style=\"text-align: center;\" data-mce-style=\"text-align: center;\"\u003e\u003cstrong\u003eSat 9 April 2022 | \u003ca href=\"https://www.moshtix.com.au/v2/event/monolith-festival-featuring-karnivool-cog-ocean-grove-plini-and-more/133114?ref=moshtix-news\" target=\"_blank\" data-mce-href=\"https://www.moshtix.com.au/v2/event/monolith-festival-featuring-karnivool-cog-ocean-grove-plini-and-more/133114?ref=moshtix-news\"\u003eRed Hill Auditorium, WA\u003c/a\u003e\u003c/strong\u003e\u003c/p\u003e\u003cp style=\"text-align: center;\" data-mce-style=\"text-align: center;\"\u003e\u003cbr\u003e\u003c/p\u003e\u003ctable width=\"384\" border=\"0\" cellspacing=\"0\" cellpadding=\"0\" align=\"center\" style=\"width: 384px;\" class=\"em_wrapper mceItemTable\" data-mce-style=\"width: 384px;\"\u003e\u003ctbody\u003e\u003ctr\u003e\u003ctd valign=\"top\" align=\"center\" background=\"http://www.moshtix.com.au/directory/uploads/images/CTA_MusicNews_bg_img.jpg\" style=\"background: url(\u0027http://www.moshtix.com.au/directory/uploads/images/CTA_MusicNews_bg_img.jpg\u0027) top center no-repeat; background-size: 100% 100%; background-color: #57db57; height: 46px;\" height=\"46\" data-mce-style=\"background: url(\u0027http://www.moshtix.com.au/directory/uploads/images/CTA_MusicNews_bg_img.jpg\u0027) top center no-repeat; background-size: 100% 100%; background-color: #57db57; height: 46px;\"\u003e\u003ctable width=\"384\" border=\"0\" cellspacing=\"0\" cellpadding=\"0\" align=\"center\" style=\"width: 384px;\" class=\"em_wrapper mceItemTable\" data-mce-style=\"width: 384px;\"\u003e\u003ctbody\u003e\u003ctr\u003e\u003ctd width=\"10\" style=\"width: 10px;\" data-mce-style=\"width: 10px;\"\u003e\u0026nbsp;\u003c/td\u003e\u003ctd valign=\"middle\" align=\"center\" height=\"46\" class=\"em_black\" style=\"font-size: 20px; font-family: \u0027Open Sans\u0027, \u0027Helvetica Neue\u0027, Helvetica, Arial, sans-serif; color: #181818; font-weight: bold; height: 46px;\" data-mce-style=\"font-size: 20px; font-family: \u0027Open Sans\u0027, \u0027Helvetica Neue\u0027, Helvetica, Arial, sans-serif; color: #181818; font-weight: bold; height: 46px;\"\u003e\u003ca href=\"https://www.moshtix.com.au/v2/monolith-festival?ref=moshtix-news\" target=\"_blank\" style=\"text-decoration: none; color: #181818; display: block; line-height: 46px;\" data-mce-href=\"https://www.moshtix.com.au/v2/monolith-festival?ref=moshtix-news\" data-mce-style=\"text-decoration: none; color: #181818; display: block; line-height: 46px;\"\u003e Find Tickets \u003c/a\u003e\u003c/td\u003e\u003ctd width=\"10\" style=\"width: 10px;\" data-mce-style=\"width: 10px;\"\u003e\u0026nbsp;\u003c/td\u003e\u003c/tr\u003e\u003c/tbody\u003e\u003c/table\u003e\u003c/td\u003e\u003c/tr\u003e\u003c/tbody\u003e\u003c/table\u003e\u003cp\u003e\u003cbr\u003e\u003c/p\u003e\u003ciframe src=\"https://www.youtube.com/embed/18SUFbABxNQ\" frameborder=\"0\" title=\"YouTube video player\" height=\"515\" width=\"950\" data-mce-src=\"https://www.youtube.com/embed/18SUFbABxNQ\"\u003e\u003c/iframe\u003e\u003cp\u003e\u003cbr\u003e\u003c/p\u003e\u003ciframe src=\"https://www.youtube.com/embed/jB0IonJuCxw\" frameborder=\"0\" title=\"YouTube video player\" height=\"515\" width=\"950\" data-mce-src=\"https://www.youtube.com/embed/jB0IonJuCxw\"\u003e\u003c/iframe\u003e\u003cp\u003e\u003cbr\u003e\u003c/p\u003e","Intro":"A brand new touring festival is set to erupt in an explosion of prog, rock and metal sounds across four epic outdoor venues in March/April 2022, and for\u0026nbsp;the very first time in seventeen years, Aussie rock icons Karnivool and COG will tour together on the same lineup.The two bands will also be joined...","Image":"https://static.moshtix.com.au/directory/uploads/images/monolith_redhill_twitter_1200x630.jpg","Id":10904,"Timestamp":"11/26/2021 10:00:00","DateLong":"26th November, 2021","DateShort":"Fri 26 Nov"},{"Title":"Fortune Festival Is Coming To Dunedin With Salmonella Dub, Teeks, Gin Wigmore And More","ShortTitle":"Fortune Festival Is Coming...","Content":"\u003cp\u003e\u003cspan\u003eThe first large-scale outdoor festival Dunedin has seen\u0026nbsp;in far too long is set to bring\u0026nbsp;\u003c/span\u003e\u003cspan\u003ea powerhouse lineup of New Zealand music to Dunedin\u0027s University Oval in April next year.\u003c/span\u003e\u003c/p\u003e\u003cp\u003e\u003cspan\u003eThe first announcement of acts for Fortune Festival\u0026nbsp;is a whos who\u003c/span\u003e\u003cspan\u003e\u0026nbsp;of New Zealand music with headliners \u003c/span\u003e\u003cspan\u003e\u003cstrong\u003eSalmonella Dub\u003c/strong\u003e joined by \u003cstrong\u003eTiki Taane\u003c/strong\u003e and \u003cstrong\u003eLaughton Kora\u003c/strong\u003e, Kiwi soul sensation \u003cstrong\u003eTEEKS\u003c/strong\u003e, indie\u003c/span\u003e\u003cspan\u003e-\u003c/span\u003e\u003cspan\u003epop \u003c/span\u003e\u003cspan\u003estar \u003cstrong\u003eGin Wigmore\u003c/strong\u003e, and Dunedin\u0027s own \u003cstrong\u003eNadia Reid\u003c/strong\u003e \u003cstrong\u003e\u0026amp; Her Band\u003c/strong\u003e. With many more supporting \u003c/span\u003e\u003cspan\u003eacts spread throughout the day.\u003c/span\u003e\u003c/p\u003e\u003cp\u003e\u003cspan\u003eA\u003c/span\u003e\u003cspan\u003enother massive act is also slated for \u003c/span\u003e\u003cspan\u003eJanuary\u0027s second lineup announcement (we\u0027ll update this article as soon as the second announcement drops... watch this space!).\u003c/span\u003e\u003c/p\u003e\u003cp\u003e\u003cspan\u003e\u003cspan\u003eThe event will feature several zones and stages that will transform the University Oval\u0027s wicket from a \u003c/span\u003e\u003cspan\u003eone\u003c/span\u003e\u003cspan\u003e-\u003c/span\u003e\u003cspan\u003ehit\u003c/span\u003e\u003cspan\u003e-\u003c/span\u003e\u003cspan\u003ewonder into a\u003c/span\u003e\u003cspan\u003e\u0026nbsp;festival offering Dunedin it\u003c/span\u003e\u003cspan\u003es own big day out.\u003c/span\u003e\u003c/span\u003e\u003c/p\u003e\u003cp\u003eFortune Festival tickets go\u003cstrong\u003e on sale from 10am on Thursday 2 December\u003c/strong\u003e. Check out the full lineup and ticket info below.\u003c/p\u003e\u003cp\u003e\u003cbr\u003e\u003c/p\u003e\u003ch1 style=\"text-align: center;\" data-mce-style=\"text-align: center;\"\u003eFortune Festival\u003c/h1\u003e\u003cdiv id=\"event-summary-date\" style=\"text-align: center;\" data-mce-style=\"text-align: center;\"\u003e\u003cstrong\u003eSat 2 April 2022 | University Oval, Otago\u003c/strong\u003e\u003c/div\u003e\u003cdiv style=\"text-align: center;\" data-mce-style=\"text-align: center;\"\u003e\u003cbr\u003e\u003c/div\u003e\u003cp style=\"text-align: center;\" data-mce-style=\"text-align: center;\"\u003eSalmonella Dub feat Tiki Taane \u0026amp; Laughton Kora | 2ND Headliner TBA\u003c/p\u003e\u003cp style=\"text-align: center;\" data-mce-style=\"text-align: center;\"\u003eTeeks | Gin Wigmore | Nadia Reid \u0026amp; Her Band\u003c/p\u003e\u003cp style=\"text-align: center;\" data-mce-style=\"text-align: center;\"\u003eLord Echo's Percussion People | Frank Booker | Peter Urlich (DJ Set)\u003c/p\u003e\u003cp style=\"text-align: center;\" data-mce-style=\"text-align: center;\"\u003eKédu Carlö | Juno Is | Hurricane Emily + more to be announced\u003c/p\u003e\u003cp\u003e\u003cbr\u003e\u003c/p\u003e\u003ctable width=\"384\" border=\"0\" cellspacing=\"0\" cellpadding=\"0\" align=\"center\" style=\"width: 384px;\" class=\"em_wrapper mceItemTable\" data-mce-style=\"width: 384px;\"\u003e\u003ctbody\u003e\u003ctr\u003e\u003ctd valign=\"top\" align=\"center\" background=\"http://www.moshtix.com.au/directory/uploads/images/CTA_MusicNews_bg_img.jpg\" style=\"background: url(\u0027http://www.moshtix.com.au/directory/uploads/images/CTA_MusicNews_bg_img.jpg\u0027) top center no-repeat; background-size: 100% 100%; background-color: #57db57; height: 46px;\" height=\"46\" data-mce-style=\"background: url(\u0027http://www.moshtix.com.au/directory/uploads/images/CTA_MusicNews_bg_img.jpg\u0027) top center no-repeat; background-size: 100% 100%; background-color: #57db57; height: 46px;\"\u003e\u003ctable width=\"384\" border=\"0\" cellspacing=\"0\" cellpadding=\"0\" align=\"center\" style=\"width: 384px;\" class=\"em_wrapper mceItemTable\" data-mce-style=\"width: 384px;\"\u003e\u003ctbody\u003e\u003ctr\u003e\u003ctd width=\"10\" style=\"width: 10px;\" data-mce-style=\"width: 10px;\"\u003e\u0026nbsp;\u003c/td\u003e\u003ctd valign=\"middle\" align=\"center\" height=\"46\" class=\"em_black\" style=\"font-size: 20px; font-family: \u0027Open Sans\u0027, \u0027Helvetica Neue\u0027, Helvetica, Arial, sans-serif; color: #181818; font-weight: bold; height: 46px;\" data-mce-style=\"font-size: 20px; font-family: \u0027Open Sans\u0027, \u0027Helvetica Neue\u0027, Helvetica, Arial, sans-serif; color: #181818; font-weight: bold; height: 46px;\"\u003e\u003ca href=\"https://moshtix.co.nz/v2/event/fortune-festival/133495?ref=moshtix-news\" target=\"_blank\" style=\"text-decoration: none; color: #181818; display: block; line-height: 46px;\" data-mce-href=\"https://moshtix.co.nz/v2/event/fortune-festival/133495?ref=moshtix-news\" data-mce-style=\"text-decoration: none; color: #181818; display: block; line-height: 46px;\"\u003e Find Tickets \u003c/a\u003e\u003c/td\u003e\u003ctd width=\"10\" style=\"width: 10px;\" data-mce-style=\"width: 10px;\"\u003e\u0026nbsp;\u003c/td\u003e\u003c/tr\u003e\u003c/tbody\u003e\u003c/table\u003e\u003c/td\u003e\u003c/tr\u003e\u003c/tbody\u003e\u003c/table\u003e\u003cp\u003e\u003cbr\u003e\u003c/p\u003e\u003ciframe src=\"https://www.youtube.com/embed/wIEGpZHNWoM\" frameborder=\"0\" title=\"YouTube video player\" height=\"515\" width=\"950\" data-mce-src=\"https://www.youtube.com/embed/wIEGpZHNWoM\"\u003e\u003c/iframe\u003e\u003cp\u003e\u003cbr\u003e\u003c/p\u003e","Intro":"The first large-scale outdoor festival Dunedin has seen\u0026nbsp;in far too long is set to bring\u0026nbsp;a powerhouse lineup of New Zealand music to Dunedin\u0027s University Oval in April next year.The first announcement of acts for Fortune Festival\u0026nbsp;is a whos who\u0026nbsp;of New Zealand music with headliners Salmonella...","Image":"https://static.moshtix.com.au/directory/uploads/images/FF-1920x1080.jpg","Id":10905,"Timestamp":"11/26/2021 06:00:00","DateLong":"26th November, 2021","DateShort":"Fri 26 Nov"},{"Title":"BENEE Announces 2022 World Tour With Shows In Australia And New Zealand","ShortTitle":"BENEE Announces 2022...","Content":"Kiwi superstar \u003ca href=\"https://www.moshtix.com.au/v2/BENEE?ref=moshtix-news\" target=\"_blank\" data-mce-href=\"https://www.moshtix.com.au/v2/BENEE?ref=moshtix-news\"\u003e\u003cstrong\u003eBENEE\u003c/strong\u003e\u003c/a\u003e has just\u0026nbsp;announced her first foray out into the world since the pandemic struck with 40 shows in the northern hemisphere.\u003cp\u003eThe singer-songwriter has also added new shows to her New Zealand tour in February-March, followed by her much-anticipated return across the Tasman, for the first time in over two years.\u003c/p\u003e\u003cp\u003e\u003cspan lang=\"EN-US\"\u003e\"\u003ci\u003eI am beyond excited to announce that my 2022 WORLD TOUR KICKS OFF IN NZ in Feb next year!!!!!!!!!\"\u003c/i\u003e says BENEE. \"\u003ci\u003eIt\u0027s been such a long time coming \u0026amp; we\u0027ve lived through a lot in these weird times but shows starting up again has rly got everyone sososososo happyyy!!!! I can\u0027t wait to get back out there \u0026amp; meet all of u and play a bunch of new musiiiiiicccc\u003c/i\u003e!!\"\u003c/span\u003e\u003cspan lang=\"EN-US\"\u003e\u003co:p\u003e\u003c/o:p\u003e\u003c/span\u003e\u003c/p\u003e\u003cp\u003e\u003cspan lang=\"EN-US\"\u003eBENEE\u0027s World Tour kicks off in\u0026nbsp;\u003c/span\u003e\u003cspan lang=\"EN-US\"\u003eNew Zealand tour before heading to Australia in March, Europe and the UK in April-May and North America in June, with tickets going \u003cstrong\u003eon sale\u0026nbsp;\u003c/strong\u003e\u003c/span\u003e\u003cstrong\u003eFriday 26 November at 11am local time\u003c/strong\u003e. Wanna score tickets ahead of the crowd? Sign up to the waitlist \u003ca href=\"https://moshtix.com.au/v2/event/benee/133265?ref=moshtix-news\" target=\"_blank\" data-mce-href=\"https://moshtix.com.au/v2/event/benee/133265?ref=moshtix-news\"\u003e\u003cstrong\u003eHERE (AU)\u003c/strong\u003e\u003c/a\u003e \u0026amp; \u003ca href=\"https://moshtix.co.nz/v2/event/benee-wellington/133224?ref=moshtix-news\" target=\"_blank\" data-mce-href=\"https://moshtix.co.nz/v2/event/benee-wellington/133224?ref=moshtix-news\"\u003e\u003cstrong\u003eHERE (NZ)\u003c/strong\u003e\u003c/a\u003e. Check out the full list of Australian and New Zealand dates + ticket info below.\u003c/p\u003e\u003cp style=\"text-align: center;\" data-mce-style=\"text-align: center;\"\u003e\u003cbr\u003e\u003c/p\u003e\u003ch1 style=\"text-align: center;\" data-mce-style=\"text-align: center;\"\u003eBENEE 2022 World Tour\u003c/h1\u003e\u003cp style=\"text-align: center;\" data-mce-style=\"text-align: center;\"\u003e\u003cstrong\u003e\u0026nbsp;\u003c/strong\u003e\u003c/p\u003e\u003ch2 style=\"text-align: center;\" data-mce-style=\"text-align: center;\"\u003e\u003cstrong\u003eNew Zeland Dates\u003c/strong\u003e\u003c/h2\u003e\u003cp style=\"text-align: center;\" data-mce-style=\"text-align: center;\"\u003eFri 25 Feb 2022 | Trafalga Centre, Nelson\u003c/p\u003e\u003cp style=\"text-align: center;\" data-mce-style=\"text-align: center;\"\u003eSat 27 Feb 2022 | Town Hall, Dunedin\u003c/p\u003e\u003cp style=\"text-align: center;\" data-mce-style=\"text-align: center;\"\u003eTue 1 Mar 2022 | ILT Stadium Southland, Invercargill\u003c/p\u003e\u003cp style=\"text-align: center;\" data-mce-style=\"text-align: center;\"\u003eThu 3 Mar 2022 | Town Hall, Auckland\u003c/p\u003e\u003cp style=\"text-align: center;\" data-mce-style=\"text-align: center;\"\u003eFri 4 Mar 2022 | Globox Arena, Claudelands, Hamilton\u003c/p\u003e\u003cp style=\"text-align: center;\" data-mce-style=\"text-align: center;\"\u003eSat 5 Mar 2022 | \u003cstrong\u003e\u003ca href=\"https://moshtix.co.nz/v2/event/benee-wellington/133224?ref=moshtix-news\" target=\"_blank\" data-mce-href=\"https://moshtix.co.nz/v2/event/benee-wellington/133224?ref=moshtix-news\"\u003eAnderson Park, Wellington\u003c/a\u003e\u003c/strong\u003e\u003c/p\u003e\u003cp style=\"text-align: center;\" data-mce-style=\"text-align: center;\"\u003eSun 6 Mar 2022 | Trustpower Baypark Arena, Tauranga\u003c/p\u003e\u003cp style=\"text-align: center;\" data-mce-style=\"text-align: center;\"\u003eFri 11 Mar 2022 | Central Energy Trust Arena, Palmerston North\u003c/p\u003e\u003cp style=\"text-align: center;\" data-mce-style=\"text-align: center;\"\u003eSat 12 Mar 2022 | Pettigrew Green Arena, Napier\u003c/p\u003e\u003cp style=\"text-align: center;\" data-mce-style=\"text-align: center;\"\u003eSun 13 Mar 2022 | TBS Stadium, New Plymouth\u003c/p\u003e\u003cdiv data-page-number=\"2\" id=\"bp-page-2\" data-loaded=\"true\" style=\"text-align: center;\" data-mce-style=\"text-align: center;\"\u003e\u003cspan\u003e\u0026nbsp;\u003c/span\u003e\u003c/div\u003e\u003ch2 data-page-number=\"2\" data-loaded=\"true\" style=\"text-align: center;\" data-mce-style=\"text-align: center;\"\u003e\u003cstrong\u003eAustralian Dates\u003c/strong\u003e\u003c/h2\u003e\u003cdiv data-page-number=\"3\" id=\"bp-page-3\" data-loaded=\"true\"\u003e\u003cbr\u003e\u003c/div\u003e\u003cp style=\"text-align: center;\" data-mce-style=\"text-align: center;\"\u003eFri 18 Mar 2022 | Vandemonian, Hobart\u003c/p\u003e\u003cp style=\"text-align: center;\" data-mce-style=\"text-align: center;\"\u003eSun 20 Mar 2022 | \u003cstrong\u003eHOTA Amphitheatre, Gold Coast\u003c/strong\u003e\u003c/p\u003e\u003cp style=\"text-align: center;\" data-mce-style=\"text-align: center;\"\u003eTue 22 Mar 2022 | \u003cstrong\u003e\u003ca href=\"https://www.ticketmaster.com.au/benee-brisbane-22-03-2022/event/13005B71B7C55007?camefrom=cfc_au_mosh\" target=\"_blank\" data-mce-href=\"https://www.ticketmaster.com.au/benee-brisbane-22-03-2022/event/13005B71B7C55007?camefrom=cfc_au_mosh\"\u003eFortitude Music Hall, Brisbane\u003c/a\u003e\u003c/strong\u003e\u003c/p\u003e\u003cp style=\"text-align: center;\" data-mce-style=\"text-align: center;\"\u003eFri 25 Mar 2022 | Sidney Myer Music Bowl, Melbourne\u003c/p\u003e\u003cp style=\"text-align: center;\" data-mce-style=\"text-align: center;\"\u003eSat 26 Mar 2022 | \u003cstrong\u003e\u003ca href=\"https://moshtix.com.au/v2/event/benee/133265?ref=moshtix-news\" target=\"_blank\" data-mce-href=\"https://moshtix.com.au/v2/event/benee/133265?ref=moshtix-news\"\u003eRed Hill, Perth\u003c/a\u003e\u003c/strong\u003e\u003c/p\u003e\u003cp style=\"text-align: center;\" data-mce-style=\"text-align: center;\"\u003eTue 29 Mar 2022 | \u003cstrong\u003e\u003ca href=\"https://www.ticketmaster.com.au/event/13005B71AC0143DF?camefrom=cfc_au_mosh\" target=\"_blank\" data-mce-href=\"https://www.ticketmaster.com.au/event/13005B71AC0143DF?camefrom=cfc_au_mosh\"\u003eThebarton, Adelaide\u003c/a\u003e\u003c/strong\u003e\u003c/p\u003e\u003cp style=\"text-align: center;\" data-mce-style=\"text-align: center;\"\u003eThu 7 Apr | \u003cstrong\u003e\u003ca href=\"https://www.ticketmaster.com.au/event/13005B71A8C442CC?camefrom=cfc_au_mosh\" target=\"_blank\" data-mce-href=\"https://www.ticketmaster.com.au/event/13005B71A8C442CC?camefrom=cfc_au_mosh\"\u003eBig Top, Sydney\u003c/a\u003e\u003c/strong\u003e\u003c/p\u003e\u003cp\u003e\u003cbr\u003e\u003c/p\u003e\u003ctable width=\"384\" border=\"0\" cellspacing=\"0\" cellpadding=\"0\" align=\"center\" style=\"width: 384px;\" class=\"em_wrapper mceItemTable\" data-mce-style=\"width: 384px;\"\u003e\u003ctbody\u003e\u003ctr\u003e\u003ctd valign=\"top\" align=\"center\" background=\"http://www.moshtix.com.au/directory/uploads/images/CTA_MusicNews_bg_img.jpg\" style=\"background: url(\u0027http://www.moshtix.com.au/directory/uploads/images/CTA_MusicNews_bg_img.jpg\u0027) top center no-repeat; background-size: 100% 100%; background-color: #57db57; height: 46px;\" height=\"46\" data-mce-style=\"background: url(\u0027http://www.moshtix.com.au/directory/uploads/images/CTA_MusicNews_bg_img.jpg\u0027) top center no-repeat; background-size: 100% 100%; background-color: #57db57; height: 46px;\"\u003e\u003ctable width=\"384\" border=\"0\" cellspacing=\"0\" cellpadding=\"0\" align=\"center\" style=\"width: 384px;\" class=\"em_wrapper mceItemTable\" data-mce-style=\"width: 384px;\"\u003e\u003ctbody\u003e\u003ctr\u003e\u003ctd width=\"10\" style=\"width: 10px;\" data-mce-style=\"width: 10px;\"\u003e\u0026nbsp;\u003c/td\u003e\u003ctd valign=\"middle\" align=\"center\" height=\"46\" class=\"em_black\" style=\"font-size: 20px; font-family: \u0027Open Sans\u0027, \u0027Helvetica Neue\u0027, Helvetica, Arial, sans-serif; color: #181818; font-weight: bold; height: 46px;\" data-mce-style=\"font-size: 20px; font-family: \u0027Open Sans\u0027, \u0027Helvetica Neue\u0027, Helvetica, Arial, sans-serif; color: #181818; font-weight: bold; height: 46px;\"\u003e\u003ca href=\"https://moshtix.co.nz/v2/event/benee-wellington/133224?ref=moshtix-news\" target=\"_blank\" style=\"text-decoration: none; color: #181818; display: block; line-height: 46px;\" data-mce-href=\"https://moshtix.co.nz/v2/event/benee-wellington/133224?ref=moshtix-news\" data-mce-style=\"text-decoration: none; color: #181818; display: block; line-height: 46px;\"\u003e Sign up for NZ Presale\u003c/a\u003e\u003c/td\u003e\u003ctd width=\"10\" style=\"width: 10px;\" data-mce-style=\"width: 10px;\"\u003e\u0026nbsp;\u003c/td\u003e\u003c/tr\u003e\u003c/tbody\u003e\u003c/table\u003e\u003c/td\u003e\u003c/tr\u003e\u003c/tbody\u003e\u003c/table\u003e\u003cp\u003e\u003cbr\u003e\u003c/p\u003e\u003ctable width=\"384\" border=\"0\" cellspacing=\"0\" cellpadding=\"0\" align=\"center\" style=\"width: 384px;\" class=\"em_wrapper mceItemTable\" data-mce-style=\"width: 384px;\"\u003e\u003ctbody\u003e\u003ctr\u003e\u003ctd valign=\"top\" align=\"center\" background=\"http://www.moshtix.com.au/directory/uploads/images/CTA_MusicNews_bg_img.jpg\" style=\"background: url(\u0027http://www.moshtix.com.au/directory/uploads/images/CTA_MusicNews_bg_img.jpg\u0027) top center no-repeat; background-size: 100% 100%; background-color: #57db57; height: 46px;\" height=\"46\" data-mce-style=\"background: url(\u0027http://www.moshtix.com.au/directory/uploads/images/CTA_MusicNews_bg_img.jpg\u0027) top center no-repeat; background-size: 100% 100%; background-color: #57db57; height: 46px;\"\u003e\u003ctable width=\"384\" border=\"0\" cellspacing=\"0\" cellpadding=\"0\" align=\"center\" style=\"width: 384px;\" class=\"em_wrapper mceItemTable\" data-mce-style=\"width: 384px;\"\u003e\u003ctbody\u003e\u003ctr\u003e\u003ctd width=\"10\" style=\"width: 10px;\" data-mce-style=\"width: 10px;\"\u003e\u0026nbsp;\u003c/td\u003e\u003ctd valign=\"middle\" align=\"center\" height=\"46\" class=\"em_black\" style=\"font-size: 20px; font-family: \u0027Open Sans\u0027, \u0027Helvetica Neue\u0027, Helvetica, Arial, sans-serif; color: #181818; font-weight: bold; height: 46px;\" data-mce-style=\"font-size: 20px; font-family: \u0027Open Sans\u0027, \u0027Helvetica Neue\u0027, Helvetica, Arial, sans-serif; color: #181818; font-weight: bold; height: 46px;\"\u003e\u003ca href=\"https://moshtix.com.au/v2/benee?ref=moshtix-news\" target=\"_blank\" style=\"text-decoration: none; color: #181818; display: block; line-height: 46px;\" data-mce-href=\"https://moshtix.com.au/v2/benee?ref=moshtix-news\" data-mce-style=\"text-decoration: none; color: #181818; display: block; line-height: 46px;\"\u003e Sign up for AU Presale \u003c/a\u003e\u003c/td\u003e\u003ctd width=\"10\" style=\"width: 10px;\" data-mce-style=\"width: 10px;\"\u003e\u0026nbsp;\u003c/td\u003e\u003c/tr\u003e\u003c/tbody\u003e\u003c/table\u003e\u003c/td\u003e\u003c/tr\u003e\u003c/tbody\u003e\u003c/table\u003e\u003cp\u003e\u003cbr\u003e\u003c/p\u003e\u003ciframe src=\"https://www.youtube.com/embed/R6r5IUM5LqY\" frameborder=\"0\" title=\"YouTube video player\" height=\"515\" width=\"950\" data-mce-src=\"https://www.youtube.com/embed/R6r5IUM5LqY\"\u003e\u003c/iframe\u003e\u003cp\u003e\u003cbr\u003e\u003c/p\u003e","Intro":"Kiwi superstar BENEE has just\u0026nbsp;announced her first foray out into the world since the pandemic struck with 40 shows in the northern hemisphere.The singer-songwriter has also added new shows to her New Zealand tour in February-March, followed by her much-anticipated return across the Tasman, for the...","Image":"https://static.moshtix.com.au/directory/uploads/images/BENEE_NZ%20AU%20Tour%20.png","Id":10902,"Timestamp":"11/22/2021 09:00:00","DateLong":"22nd November, 2021","DateShort":"Mon 22 Nov"},{"Title":"Teenage Joans Set New Record At Last Night\u0027s South Australian Music Awards","ShortTitle":"Teenage Joans Set New...","Content":"\u003cp\u003eLast night the South Australian music industry came together live and in-person at the \u003cb\u003e2021 South Australian Music (SAM) Awards\u003c/b\u003e!\u003c/p\u003e\u003cp\u003eThe sold-out gala event saw industry professionals and artists gather on the lawns of the Adelaide Gaol in a stellar evening of live performances and merriment, celebrating local music and the workers who have made live music possible even during what was a tumultuous year for the music and entertainment industry.\u003c/p\u003e\u003cp\u003eThe big winners of the night were pop-punk duo \u003cb\u003eTeenage Joans\u003c/b\u003e, who have officially set a new record for the SAMs for the most awards won by a single artist in the same year! They took home an impressive seven awards in their very first year as nominees! This record was previously held by West Thebarton, who scored four wins in 2018.\u003c/p\u003e\u003cp\u003eThe triple j Unearthed High winners took out every single award category they were nominated for - Best Song, Best New Artist, Best Group, Best Release, Most Popular Punk Artist and Best Cover Art. Additionally, they were awarded the inaugural award for the City of Adelaide Exceptional Live Music Performance Award, which was decided by a collective of Adelaide-based original live music venues.\u003c/p\u003e\u003cp\u003eAlongside the publicly voted awards, the industry awards were decided by a panel of judges, which saw iconic local venue, \u003cb\u003eJive\u003c/b\u003e, take home Best Venue - this comes a year after the \u0027Keep Jive Alive\u0027 campaign where local music fans were asked to support the 20-year old venue through crowdfunding.\u003c/p\u003e\u003cp\u003eThe Best Major Festival/Event award, which was presented by Moshtix, went to \u003cb\u003eWOMADelaide\u003c/b\u003e. They\u0027re set up to celebrate their 30th year of bringing world music, art and dance to Adelaide next March.\u003c/p\u003e\u003cp\u003eThe full list of winners is below!\u003c/p\u003e\u003ch1\u003e\u003cb\u003e2021 SOUTH AUSTRALIAN MUSIC AWARDS WINNERS\u003c/b\u003e\u003c/h1\u003e\u003ch2\u003e\u003cspan style=\"text-decoration: underline;\" data-mce-style=\"text-decoration: underline;\"\u003e\u003cb\u003eMAJOR/INDUSTRY VOTED AWARDS WINNERS\u003c/b\u003e\u003c/span\u003e\u003c/h2\u003e\u003cp\u003e\u003cb\u003eBEST STUDIO \u003c/b\u003e(Presented by Adelaide Music Collective)\u003cb\u003e - TIE!\u003cbr\u003e \u003c/b\u003eChapel Lane Studios\u003cb\u003e\u003cbr\u003e \u003c/b\u003eWundenberg\u0027s Recording Studio\u003cb\u003e\u003c/b\u003e\u003c/p\u003e\u003cp\u003e\u003cb\u003eBEST STUDIO ENGINEER/PRODUCER\u003c/b\u003e (Presented by SAE Institute Adelaide)\u003cbr\u003e Kiah Gossner\u003c/p\u003e\u003cp\u003e\u003cb\u003eBEST LIVE TECHNICIAN\u003c/b\u003e (Presented by Novatech)\u003cbr\u003e Lisa Lane Collins\u003c/p\u003e\u003cp\u003e\u003cb\u003eBEST MAJOR FESTIVAL/EVENT\u003c/b\u003e (Presented by MOSHTIX)\u003cbr\u003e WOMADelaide\u003c/p\u003e\u003cp\u003e\u003cb\u003eBEST SMALL FESTIVAL/EVENT\u003c/b\u003e (Presented by Pirate Life)\u003cbr\u003e Space Jams South Coast Tour\u003c/p\u003e\u003cp\u003e\u003cb\u003eBEST VENUE\u003c/b\u003e (Presented by AHA)\u003cbr\u003e Jive\u003c/p\u003e\u003cp\u003e\u003cb\u003eBEST COVER ART\u003c/b\u003e (Presented by Version Design)\u003cbr\u003e Samuel Graves \u0026amp; Eve Burner (Teenage Joans - \"Taste of Me\")\u003c/p\u003e\u003cp\u003e\u003cb\u003eBEST MANAGER\u003c/b\u003e (Presented by Association of Artist Managers)\u003cbr\u003e Rachel Whitford\u003c/p\u003e\u003cp\u003e\u003cb\u003eBEST MUSIC VIDEO\u003c/b\u003e (Presented by Alpha Box \u0026amp; Dice)\u003cbr\u003e Harry Nathan (Glowing - \"Poppy\")\u003c/p\u003e\u003cp\u003e\u003cb\u003eBEST SONG\u003c/b\u003e (Presented by APRA AMCOS)\u003cbr\u003e Teenage Joans - \"Something About Being Sixteen\"\u003c/p\u003e\u003cp\u003e\u003cb\u003eBEST NEW ARTIST\u003c/b\u003e (Presented by WOMADelaide)\u003cbr\u003e Teenage Joans\u003c/p\u003e\u003cp\u003e\u003cb\u003eBEST GROUP\u003c/b\u003e (Presented by Derringers Music)\u003cbr\u003e Teenage Joans\u003c/p\u003e\u003cp\u003e\u003cb\u003eBEST ABORIGINAL/TORRES STRAIT ISLANDER ARTIST \u003c/b\u003e(Presented by Centre for Aboriginal Studies in Music - CASM)\u003cb\u003e\u003cbr\u003e \u003c/b\u003eTilly Tjala Thomas\u003cb\u003e\u003c/b\u003e\u003c/p\u003e\u003cp\u003e\u003cb\u003eBEST SOLO ARTIST\u003c/b\u003e (Presented by Media Arts Lawyers)\u003cbr\u003e Motez\u003c/p\u003e\u003cp\u003e\u003cb\u003eBEST RELEASE\u003c/b\u003e (Presented by themusic.com.au)\u003cbr\u003e Teenage Joans - \"Taste of Me\"\u003c/p\u003e\u003cp\u003e\u003cb\u003eBEST MUSIC EDUCATOR\u003c/b\u003e (Presented by SAMII)\u003cbr\u003e Alison Hams\u003c/p\u003e\u003cp\u003e\u003cb\u003eBEST INNOVATION\u003c/b\u003e (Presented by CityMag)\u003cbr\u003e WOMADelaide x NSS Academy\u003c/p\u003e\u003ch2\u003e\u003cspan style=\"text-decoration: underline;\" data-mce-style=\"text-decoration: underline;\"\u003e\u003cb\u003ePEOPLE\u0027S CHOICE AWARDS WINNERS\u003c/b\u003e\u003c/span\u003e\u003c/h2\u003e\u003cp\u003e\u003cb\u003eBLUES \u0026amp; ROOTS\u003c/b\u003e (Presented by UniBar)\u003cbr\u003e Cal Williams Jr\u003c/p\u003e\u003cp\u003e\u003cb\u003eCOUNTRY\u003c/b\u003e (Presented by Grace Emily Hotel)\u003cbr\u003e Ricky Albeck \u0026amp; The Belair Line Band\u003c/p\u003e\u003cp\u003e\u003cb\u003eELECTRONIC\u003c/b\u003e (Presented by Fat Controller)\u003cbr\u003e Motez\u003c/p\u003e\u003cp\u003e\u003cb\u003eEXPERIMENTAL\u003c/b\u003e (Presented by The Lab)\u003cbr\u003e Sons of Z ku\u003c/p\u003e\u003cp\u003e\u003cb\u003eFOLK\u003c/b\u003e (Presented by The Wheatsheaf Hotel)\u003cbr\u003e Siberian Tiger\u003c/p\u003e\u003cp\u003e\u003cb\u003eHEAVY\u003c/b\u003e (Presented by ARMI)\u003cbr\u003e Kitchen Witch\u003c/p\u003e\u003cp\u003e\u003cb\u003eHIP HOP\u003c/b\u003e (Presented by The Gov)\u003cbr\u003e Boffa\u003c/p\u003e\u003cp\u003e\u003cb\u003eJAZZ\u003c/b\u003e (Presented by the Gilbert St Hotel)\u003cbr\u003e Chelsea Lee\u003c/p\u003e\u003cp\u003e\u003cb\u003ePOP\u003c/b\u003e (Presented by Lion Arts Factory)\u003cbr\u003e G-Nation\u003c/p\u003e\u003cp\u003e\u003cb\u003ePUNK\u003c/b\u003e (Presented by Three D Radio)\u003cbr\u003e Teenage Joans\u003c/p\u003e\u003cp\u003e\u003cb\u003eROCK\u003c/b\u003e (Presented by Jive)\u003cbr\u003e TOWNS\u003c/p\u003e\u003cp\u003e\u003cb\u003eSOUL/FUNK/R\u0026amp;B\u003c/b\u003e (Presented by Woodville Town Hall)\u003cbr\u003e Mum Thinks Blue\u003c/p\u003e\u003ch2\u003e\u003cspan style=\"text-decoration: underline;\" data-mce-style=\"text-decoration: underline;\"\u003e\u003cb\u003e2021 SPECIAL AWARD WINNERS\u003c/b\u003e\u003c/span\u003e\u003c/h2\u003e\u003cp\u003e\u003cb\u003eCITY OF ADELAIDE EXCEPTIONAL LIVE PERFORMANCE AWARD\u003c/b\u003e (Presented by City of Adelaide)\u003cbr\u003e Teenage Joans\u003c/p\u003e\u003cp\u003e\u003cb\u003eADELAIDE UNESCO CITY OF MUSIC BEST INTERNATIONAL\u003c/b\u003e COLLABORATION (Presented by Adelaide UNESCO City of Music)\u003cbr\u003e Lazaro Numa\u003c/p\u003e\u003cp\u003e\u003cb\u003eEMILY BURROWS AWARD\u003c/b\u003e (Presented by APRA AMCOS)\u003cbr\u003e Tilly Tjala Thomas\u003c/p\u003e\u003cp\u003e\u003cb\u003eROSANNA AND NEVILLE CLARK AWARD\u003c/b\u003e (Presented by Disk-Edits)\u003cbr\u003e Ryan Martin John and Aidan Cibich\u003c/p\u003e\u003cp\u003e\u003cb\u003eMUSIC SA COMMUNITY ACHIEVEMENT AWARD\u003c/b\u003e (Presented by Music SA)\u003cbr\u003e Mick Wordley\u003c/p\u003e\u003cp\u003e\u003cbr\u003e\u003c/p\u003e\u003ciframe src=\"https://www.youtube.com/embed/4GMsTeilugA\" frameborder=\"0\" title=\"YouTube video player\" height=\"515\" width=\"950\" data-mce-src=\"https://www.youtube.com/embed/4GMsTeilugA\"\u003e\u003c/iframe\u003e\u003cp\u003e\u003cbr\u003e\u003c/p\u003e\u003ciframe src=\"https://www.youtube.com/embed/Fk_POUP-MTM\" frameborder=\"0\" title=\"YouTube video player\" height=\"515\" width=\"950\" data-mce-src=\"https://www.youtube.com/embed/Fk_POUP-MTM\"\u003e\u003c/iframe\u003e\u003cp\u003e\u003cbr\u003e\u003c/p\u003e\u003ciframe src=\"https://www.youtube.com/embed/MJ23vCaSxOQ\" frameborder=\"0\" title=\"YouTube video player\" height=\"515\" width=\"950\" data-mce-src=\"https://www.youtube.com/embed/MJ23vCaSxOQ\"\u003e\u003c/iframe\u003e\u003cp\u003e\u003cbr\u003e\u003c/p\u003e\u003ciframe src=\"https://www.youtube.com/embed/okMqJ6khwso\" frameborder=\"0\" title=\"YouTube video player\" height=\"515\" width=\"950\" data-mce-src=\"https://www.youtube.com/embed/okMqJ6khwso\"\u003e\u003c/iframe\u003e\u003cp\u003e\u003cbr\u003e\u003c/p\u003e","Intro":"Last night the South Australian music industry came together live and in-person at the 2021 South Australian Music (SAM) Awards!The sold-out gala event saw industry professionals and artists gather on the lawns of the Adelaide Gaol in a stellar evening of live performances and merriment, celebrating...","Image":"https://static.moshtix.com.au/directory/uploads/images/Teenage%20Joans%20Set%20New%20Record%20At%20Last%20Night\u0027s%20South%20Australian%20Music%20Awards.jpg","Id":10903,"Timestamp":"11/19/2021 17:15:00","DateLong":"19th November, 2021","DateShort":"Fri 19 Nov"}]