The Wrap Up: Top 10 Aussie And Kiwi Breakthrough Acts of 2020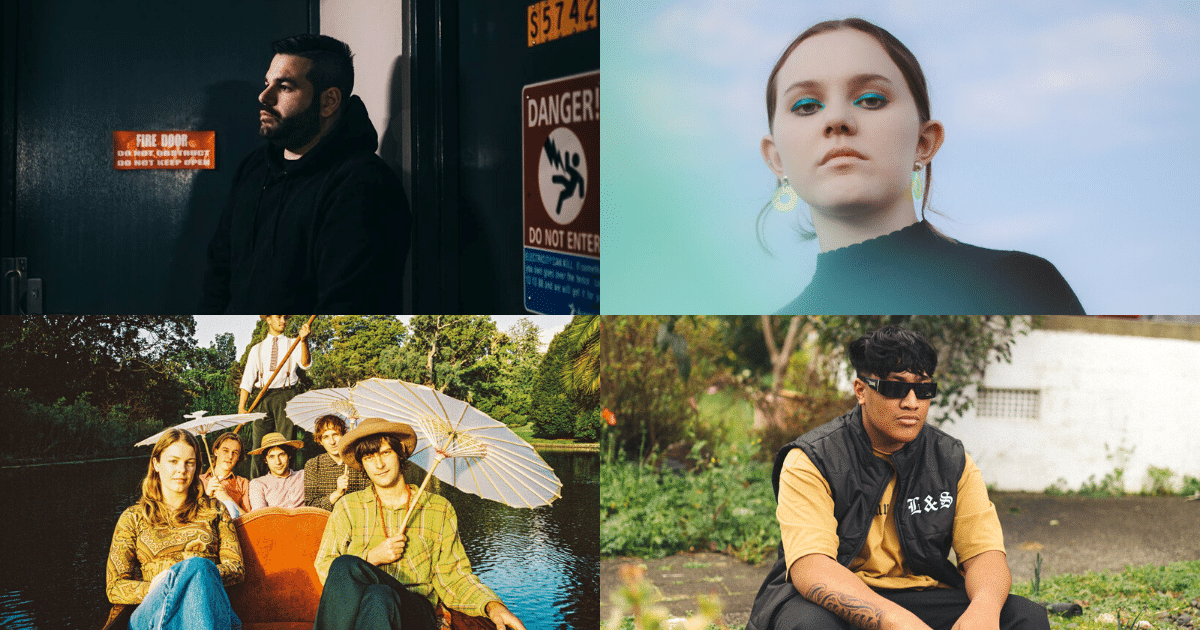 We've teamed up with music analytics experts from Australia's The Radar Station, to uncover what breakthrough acts music fans have been digging in 2020. Check out some of the fastest-growing acts across the year below.
Masked Wolf
A huge success story in the Aussie hip hop scene this year has been Masked Wolf. Harry Michael aka Masked Wolf has been laying down beats since he was 13, impressive huh?!
With previous releases amassing several million streams and over 800k monthly listeners on Spotify, Masked Wolf means business. This year, the rapper dropped four singles 'Switch', 'Night Rider', 'Star' and 'Water Walkin', all of which have been hugely successful locally and internationally.
Give Masked Wolf's latest releases a listen HERE.

Day1
Another star on the rise in 2020 has been 19-year-old, Day1. The half-Colombian, half-Maori rapper has been dishing out some serious heat over the year, dropping four fresh AF releases.
Day1 is also a core member of Western Sydney collective Area Movement, that's helped launch the careers of musicians like Hooligan Hefs and HP Boyz.
Give some of Day1's tracks a spin HERE.

Sycco
Brisbane-based singer-songwriter Sash McLeod aka Sycco has been climbing the ranks at a record pace, with her latest release titled 'Germs' amassed 300k+ streams since its release in mid-November. She also signed to Future Classic in November, joining a roster that includes Flume, Flight Facilities and G Flip.
Listen to Sycco's latest releases HERE.

Hooks
The past couple of years have been huge for the Aussie rap scene, with a new era of dope acts dominating the scene. One noteworthy rising star has got to be Hooks. The Western Sydney rapper has a super unique sound, branching away from the drill scene to pioneer his own flavour of rap, "Afroswing".
Listen to Hooks latest tracks from 2020 HERE.

MAY-A
Releasing her first piece of music in August last year, Sydney's MAY-A has been making big waves. She signed with Sony Music Entertainment for Australia and New Zealand in October this year and dropped two hugely successful singles 'Green' and 'Apricots' that both have over 1.7mil streams on Spotify.
Listen to MAY-A's latest releases HERE.

The Dreggs
Formed in 2017, Aussie indie-folk duo, The Dreggs have continued to reach new heights this year, releasing not one, but five new singles. In October the duo also announced their first major tour since February, in celebration of their latest release 'Keepsake'. If you're in Adelaide, you can score tickets to their show at Jive HERE.
Listen to the Dreggs new music HERE.

Jack Botts
Jack Botts is set to be the next big thing in the indie-folk scene, following in the footsteps of busker-turned global sensations Tash Sultana and Tones And I. Sitting at number 10 in The Radar Station's top 50 emerging Australian/NZ artists, Botts future is looking mighty bright.
2020 has been a busy year for the Northern Beaches singer-songwriter, with the release of two new singles, a 3-track EP and an east coast tour. You can score tickets to his show at Transit Bar in Canberra HERE.
Suss out Jack Botts new releases HERE.

Azure Ryder
Sydney-based singer-songwriter Azure Ryder is the new kid on the block, making quite the impression on music fans from the get-go. She made her debut back in February and now has over 550k monthly listeners on Spotify. With two EP's and three singles under her belt, Azure is showing no sign of slowing down.
Want to know more about Azure Ryder? Check out our Featured Artist interview with her HERE.

Bananagun
Hailing from Melbourne, psychedelic fused afrobeat 5-piece Bananagun are the diamond in the rough for 2020. Their debut record released in July this year, titled 'The True Story of Bananagun', is an absolute treasure trove of wild percussion and sundrenched harmonies that dreams are made of. We can't wait to see where 2021 takes them.
Listen to Bananagun's debut album HERE.

Jawsh 685
Josh Nanai aka Jawsh 685 is the Kiwi teen behind the viral TikTok song 'Laxed'. Since going viral on the social media platform, it has caught the attention of American musician, Jason Derulo. Derulo and Nanai officially released a new version of the song recently titled 'Savage Love (Laxed-Siren Beat)'. The song held the number one spot on the Australian ARIA charts for over six weeks, as well as topping the charts in New Zealand and several other countries.
Expect big things to come from Jawsh in 2021!
Listen to the OG version of 'Laxed' HERE.
FOR MORE BREAKING NEWS CLICK HERE