The South Australian Music Awards Is Back IRL And Taking Over Adelaide Gaol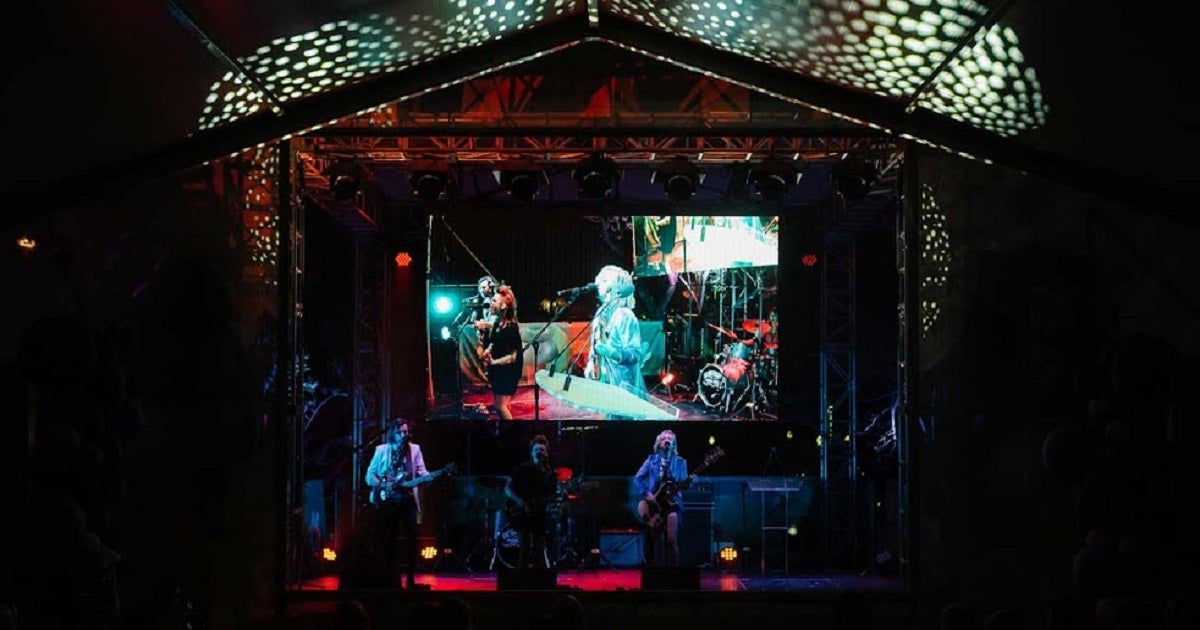 It's all happening in Adelaide this year with the state's South Australian Music (SAM) Awards set to go ahead IRL this November.
SAM Awards organisers have confirmed that this year's celebrations will be hosted on the grounds of the iconic Adelaide Gaol, with triple j's 'Good Nights' host, Bridget Hustwaite tapping in as MC for the night.
Nominees for this year's awards were also revealed today with the likes of TOWNS, Wing Defence, Motez, Unearthed High winners George Alice and Teenage Joans, along with plenty of fresh faces in the running for both the industry awards and the People's Choice Awards.
Voting is now open to the public for the People's Choice Award categories via themusic.com.au. View the full list of nominees below.
Want to come along to the awards ceremony? Earlybird tickets are available via Moshtix. Capacity is limited so get in early. Full details are also below.
2021 SAM Awards
Thu 18 November 2021 | The Old Adelaide Gaol, Thebarton, SA
2021 SA MUSIC AWARDS | PEOPLE'S CHOICE NOMINEES
BLUES & ROOTS (Presented by UniBar)
Cal Williams Jr | Craig Atkins | Mojo Dingo
Mum's Favourite | Nick Wilton | Sean Kemp
Sturt Avenue | Trav Collins | Wanderers
COUNTRY (Presented by Grace Emily Hotel)
Ben McNeil | Jaylee Daniels | Jimmy Bay
Mark Curtis and the Flannelettes | Matt Ward | Michaela Jenke
Paula Standing | Ricky Albeck & the Belair Line Band
ELECTRONIC (Presented by Fat Controller)
Ampiumx | Jack Truant | Jerry Tee Live Percussionist | Kelly Matejcic, Krunk & Restricted
Mell Hall | Motez | Netanya | Oisima | Oz Harte | Platix
Stace Cadet | TEMPLE | The Jango | V O E
EXPERIMENTAL (Presented by The Lab)
Avalon Kane| Georgia Oatley | Jackulson | Kintsugist
Laure Chain & William Jack | Leah Blankendaal | Millennium Cowboy
Neofix | Population or Mars | Slowmango | SODA | Sons of Zoku
The Cold Field | The Empty Threats
FOLK (Presented by The Wheatsheaf Hotel)
Alison Newman | B.S Roberts | Bards Brew | Jac Marshall
Jason Midzi | Jess Johns | Kaurna Cronin | Luke Marshall | Rowena
Siberian Tiger | St Jacques | Tilly Tjala Thomas
Tim Moore | Trent Worley
HEAVY (Presented by ARMI)
Aidan Cibich | alt. | Apophis | Audio Reign | Dirty Pagans
Echoes in Eternity | Hidden Intent | Kitchen Witch | No No No No No | Ouroboric
Radix | Relapse | Rocky's Pride & Joy | Scott Reed's String Theory
Shattered Hourglass | SIGNV/S | Swordfish Trombone
HIP HOP (Presented by The Gov)
BMA | Boffa | Brenton Torrens | Dem Mob
Eames | EAST AV3 | GOLDN
Holas May | Jaykle | Laitsi | LBG
MARLON X RULLA | OHENBEE | Stefan Rossi | Yung JLMSK
JAZZ (Presented by the Gilbert St Hotel)
Chelsea Lee | Christina Guala Saxophone Quartet
ER@SER DESCRIPTION | Max Grynchuk
POP (Presented by Lion Arts Factory)
Arivian Thompson | Ashton Fraser | Bermuda Bay | DIVEBAR YOUTH
Elizabeth Ruyi | Emma Knights | G-Nation | George Alice
Georgie Raft | Heaps Good Friends | Innsaei | Jas French
Jordan D'Sena | Kyan Burns | Lilac Cove | Little Panacea | Lizzie Hosking
Lucinda Grace | Luna X | MANE | My Cherie | Oligarchy & The Dead Mentor
Orelia | Pinkish Blu | PNK FME | Rachael Leahcar | Sarah Saint James
Stellie | TALIA | The Mondays | The Montreals
Thoma and the Humbugs | Tiles | Zac Eichner
PUNK (Presented by Three D Radio)
AGAPANTHER | Bitchspawn | Choosing Sides | Coldwave
Collateral Damage | Colourblind | Down and Out
Glowing | Hey Harriett | Idly By | LOLA
Madura Green | Mum Friends | Nocturnal Animals
Raccoon City | Superdose Gangway | Teenage Joans
The Systemaddicts | TWINE | Wing Defence
ROCK (Presented by Jive)
Broken Waves | Charlie On Trial | Cove Street | Don't Bring Stacey
Druid Fluids | Ethanol Blend | Feed The Fire | George Glass
LILY ROSE | Lost Woods | Luce Cargo | Mode Shifter
Mums Favourite | Oscar The Wild | RAViE
SEABASS | Sunnyside Drive | SYCAMORE
The Public Holiday | The Strange Caves | TOWNS | Wolf & Cub
SOUL/FUNK/R&B (Presented by Woodville Town Hall)
Bend | DayGlow Freaks | Dino Jag
Dojo Rise | Erin McKellar | Grco | Isaac Thomas | LENI
LilyMay | Lizzie Hosking | Mum Thinks Blue | Prince Legacy| Rob Edwards
FOR MORE BREAKING NEWS CLICK HERE