The Local List: 10 Events To Check Out Across Australia And New Zealand This Month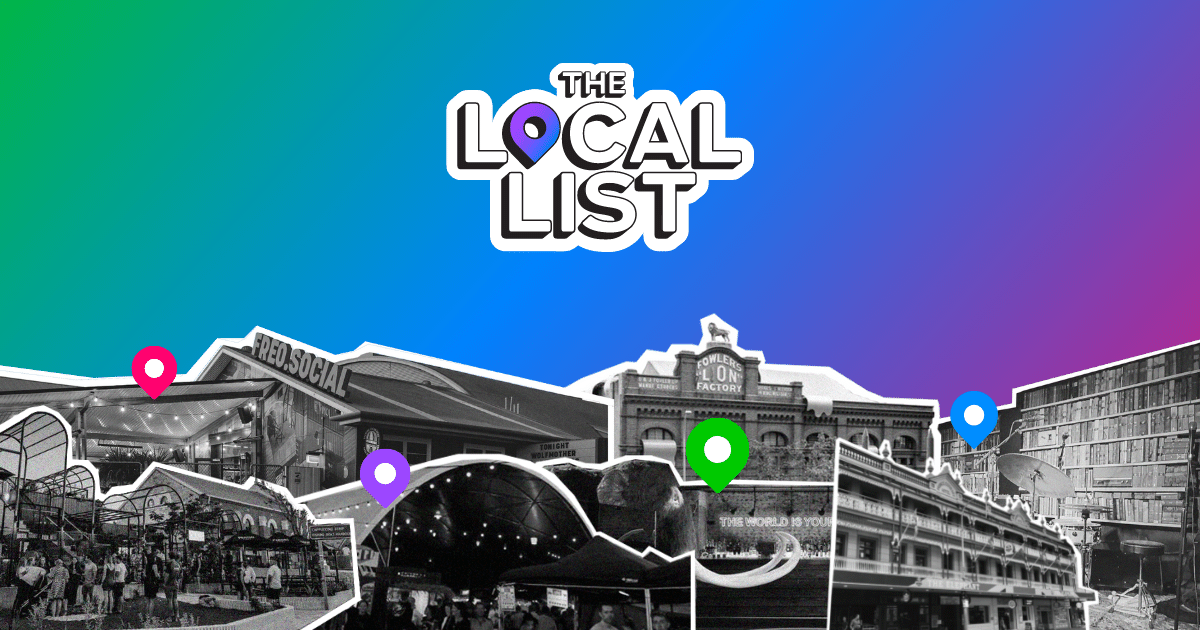 Keen to get back to live? With everyone being out of the lockdown woods, we've handpicked some of our favourite gigs coming up over the next month to help catapult you back to living your best life front row at some of the greatest local venues that Australia and New Zealand has to offer.
Looking for more events near you? Check out our dedicated Local List page HERE (AU) & HERE (NZ). We'll keep these pages updated with all of the best events coming up across Australia and New Zealand, so make sure you check back regularly for new event listings!
Brisbane & Sunshine Coast
Sly Withers @ The Triffid, QLD
Sun 21 November 2021
In celebration of the release of their sophomore album ' Gardens', Sly Withers are performing later this month at The Triffid alongside Teenage Joans and Noah Dillon. Tickets for their other shows are now sold out, with only a small handful remaining for their Early show on Sunday 21 November. Secure your spot HERE.
Bootleg Rascal @ Woolly Mammoth, QLD
Fri 19 November 2021
Aussie east-cost duo Bootleg Rascal are throwing a mad party at Woolly Mammoth on Friday 19 November in support of their upcoming album 'Sloppy Seconds'. Find out more info and book your tickets HERE.
Canberra
You Am I @ Kambri Precinct, ANU, ACT
Sun 21 November 2021
Aussie all-time essential rock n roll outfit You Am I take over Canberra's Kambri Precinct later this month, showcasing more than two decades worth of classic hits. Get your piece of the action and jump on tickets HERE.
Sydney
The Running Joke Comedy Club @ Mary's Underground
Wed 17 November 2021
Sydney's #1 Comedy Club takes over Mary's Underground in Sydney every Wednesday up until the end of December. Each night will be hosted by local funnyman Daniel Muggleton who invites some of the best Aussie comedians to the stage including Sarah Gaul and Peter Berner.
Find out more and book your tickets HERE.
Wollongong
Housework w/ Stace Cadet, Go Freek & Litmus @ UoW UniBar, NSW
Fri 26 November 2021
HOUSEWORK returns to Wollongong for a massive celebration with the finest house producers Stace Cadet, Go Freek and Litmus. Final release tickets are wearing thin so we suggest you get in quick and lock in your spot ASAP. More info HERE.
Adelaide
Immerse @ The Lab/ Light Cultural Foundation, SA
Fri 5 - Sun 28 November 2021
Plunge yourself into an unforgettable interactive experience as Light Adelaide launches its inaugural month-long event, IMMERSE this month. Indulge in Augmented Reality-enhanced cheese, oyster and charcuterie tasting or absorb the atmosphere with vibrant live evening performances changing throughout the month. It's all happening right here in Adelaide from the 5th - 28th November, with proceeds helping to support Light's vital work in promoting new artistic opportunities, cultural expression and social inclusion. Check out the full program and book your tickets HERE.
Perth
Supathick @ Freo.Social, WA
Fri 19 November 2021
Coming off a huge run of sold-out shows, Perth's fastest rising outfit Supathick are throwing their final shindig of the year at Perth's Freo.Social later this month. This will be your last chance to get down with the Thickness! More info and tickets HERE.
Melbourne
Charm of Finches @ Brunswick Ballroom, VIC
Fri 26 November 2021
Melbourne sisters Charm of Finches showcase their spine-tingling harmonies at Brunswick Ballroom later this month in celebration of their 3rd album 'Wonderful Oblivion'. The duo will also be joined by live strings and percussion support on the night. Right up your alley? Book your tickets HERE.
Tasmania
Emily Wurramara @ The Franklin Palais, Republic Bar Hobart, Forth Pub & The Paragon
Fri 3 - Fri 10 December 2021
Okay, not technically this month but coming up very soon! Catch one of our favourite up and coming First Nations musicians, Emily Wurramara this December as she performs across Trowenna (Tasmania). Find out more info about the shows and score tickets HERE.
Wellington
Alba Rose @ MEOW, Wellington
Thu 25 November 2021
Celebrate the release of Alba Rose's debut EP 'Silhouette', a four-track EP embracing the reflections of the singer-songwriters past years of life, expressed through the genres of soul, jazz, indie-pop and neo-soul. Supporting Alba on the night will be Poneke Local Len Blake performing live with her band. Suss out tickets HERE.
FOR MORE BREAKING NEWS CLICK HERE