Take Five: 5 Outcomes Jk-47 Wants To See From His Music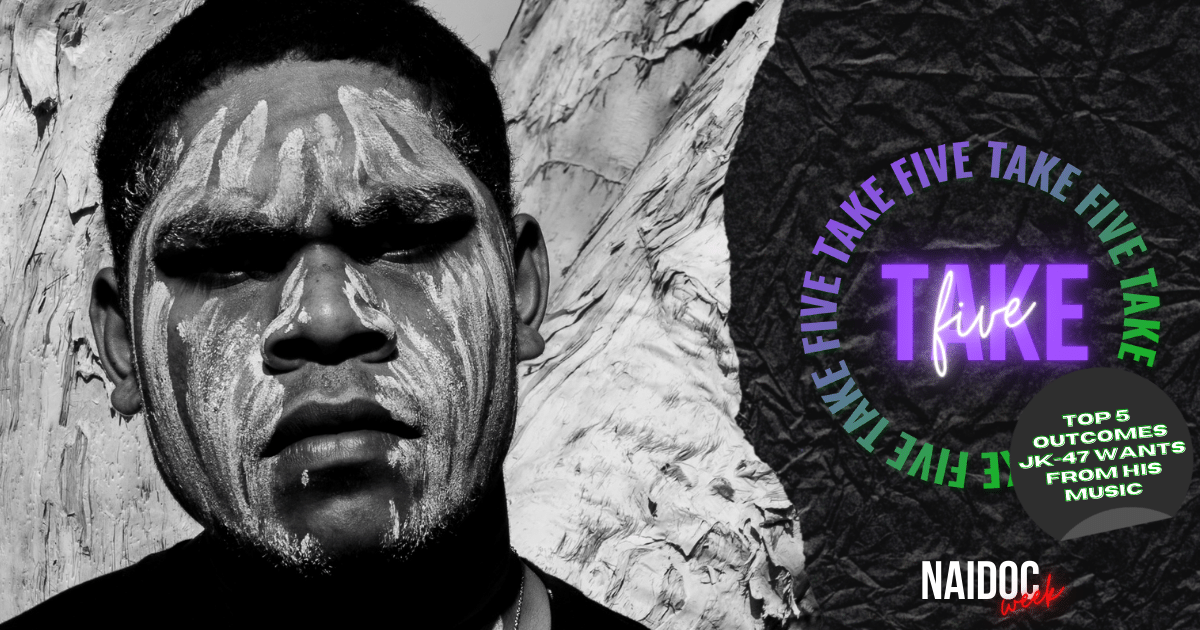 JK-47 is a proud Minjungbal/Gudjinburra rap artist of the Bundjalung community with a huge focus on bringing indigenous issues to light through his deeply powerful lyrics. Bluesfest had the opportunity to chat with the rising star ahead of his appearance at the festival this October to uncover five outcomes he hopes to achieve with his musical endeavours.
Give something people can relate to
Throughout my whole life I just wanted to relate to something. Whether its family, getting together with my cousins, making new friends in high school; that's what we look for, you know, people we can relate to. When I tell my story I just hope that the people who have been through stuff can relate to it so they can feel like someone knows what they are going through.
Bring people up
I don't want to drag people down with my music, put them in a place that's dark and there's no way out. I believe that the musician takes the listener on a journey and with my music and my journey I just wanna bring people up.
Bring people through
And once I have brought them up ... I wanna bring people through. You know - through the hard times. Let them know I've been through those hard times and bring them through their own hard times. I want my music to bring people up and bring them through whatever they are going through.
Give people strength
After all that is done .... it's all going to amount to strength. If I've brought them up - and brought them through - then I want my music to give them strength - the strength to overcome the 'day-to-day sh*t' because everyone is dealing with 'day-to-day sh*t'. You get over one hill - and on the horizon, there's another one; so, I want my music to give strength.
Bring unity
Unity - In the end, that's what it's all about. That's what the change is about. That's what we are standing for. We just want to unify and be united as one with each other. People don't have the strength for that, to confront change; so, going back to my #2 I just hope people can get the strength to overcome these things and then stand in unity with me and my people and the people that stand in unity with us. That's the #1 thing: UNITY.
Catch JK-47 on Friday 1 October at Bluesfest Byron Bay. More info and tickets via moshtix.com.au.
FOR MORE BREAKING NEWS CLICK HERE