#KEEPYOURDIS-DANCE: Discover Fresh Music Releases By Aussie and Kiwi Artists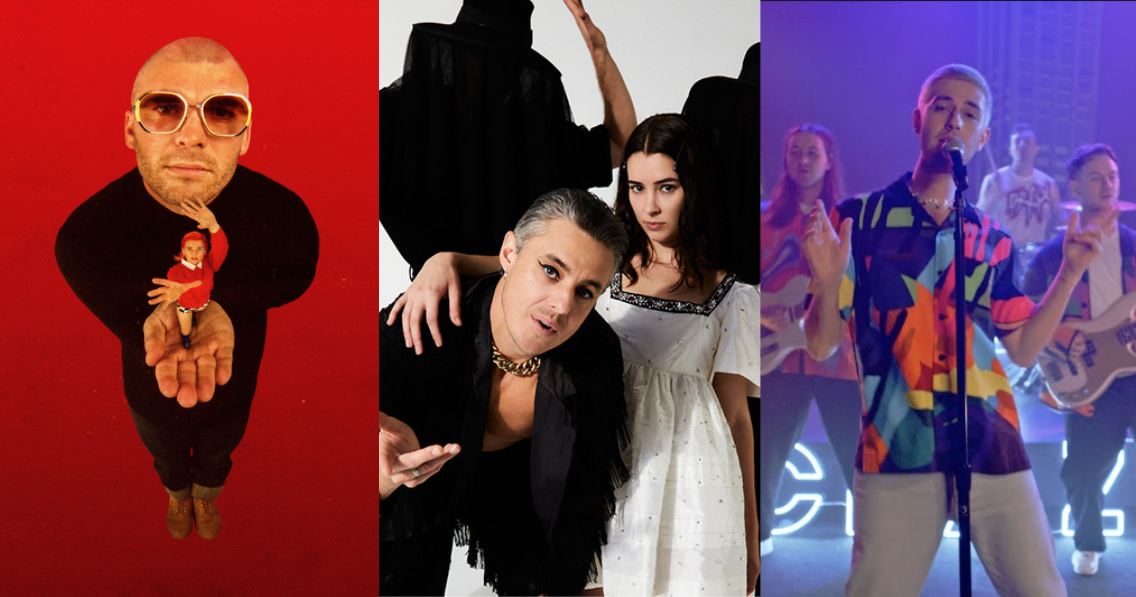 As the music industry continues to face the very real effects of the ever-evolving global health crisis, there has never been a better time to support the local music scene by getting stuck into some of the best new releases from local Australian and New Zealand artists.
We've curated our very own playlist full of fresh local music releases so that you can help support musos through this tough time. Check out some of our favourite new releases below.
New Releases:
Drax Project - Crazy
With their unique blend of jazz, R&B and pop flare, kiwi band, Drax Project, are kicking off 2022 with a fresh new tune, 'Crazy.' The song features a catchy hook with timeless pop-tastic production.
Get stuck into your new fave song via Spotify.
Broods - Like A Woman
Kiwi duo, Broods, have made a stellar return to the charts with their rousing new single, 'Like A Woman.' With spectacular vocals and moving instrumentals, the track perfectly showcases the pair's contemporary indie flavour.
Listen to 'Like A Woman' via Spotify, or catch them live at The Triffid, Brisbane and 170 Russell, Melbourne. Tickets are on sale now.
Beddy Rays - On My Own
Revive your favourite punk rock vibes of the early noughties with Brisbane natives, Beddy Rays and their latest release, 'On My Own.' The track is a guaranteed banger with heavy percussion and a bold electric guitar carrying the angsty vocals.
Check out the track via Spotify or get tickets to see Beddy Rays live at a venue near you.
Confidence Man - Holiday
Aussie electro-pop band, Confidence Man, are back with their latest electrifying release, 'Holiday.' The track is a vibrant, up-tempo anthem that will certainly get you in the mood for your next vaycay, and maybe a few margaritas!
Lsten to 'Holiday' via Spotify and get tickets to see the band live with PNAU, Allday and more at Sandstone Point Hotel.

Hayley Mary - Fall In Love
Former lead singer of The Jezabels and singer-songwriter, Hayley Mary, has launched her solo career with a bang. The recent release of her 'Fall In Love' EP births the punchy, upbeat title track of the same name. With a catchy hook and Mary's emotive powerhouse vocals, the song is guaranteed to be stuck in your head.
You can listen to the full EP, including the recent single 'Fall In Love' via Spotify.

Miiesha - Damaged
ARIA Award-winning Indigenous singer-songwriter, Miiesha, returns with the release of her brand new EP 'Smoke.' With exquisite production and silky smooth vocals permeating through not only the lead single 'Damaged,' but the entire EP, there is no doubt that Miiesha is an undeniable talent to be reckoned with in the Australian, and indeed, global R&B landscape.
Listen to 'Damaged' and Miiesha's 'Smoke' EP in full via Spotify.


TEEKS - Oil & Water
Maori sensation TEEKS knows his way around a soulful tune. With the release of his latest album 'Something To Feel' comes the moody and moving track 'Oil & Water.'
Treat your ears to the full album via Spotify or catch TEEKS live at Rhododendron Lawn in Waikato (NZ) in Feb 2022. Tickets are on sale now.


Other noteworthy releases:
Budjerah - Wash My Sorrows Away
Rising star Budjerah has knocked one out of the park with his latest release 'Wash My Sorrows Away'. The heartfelt track features a stunning mix of soulful vocals and funky low-key basslines.
Check out the track in full via Spotify. Prefer to check out Budjerah live? Catch him in 2022 at Yours and Owls Festival, Splendour in the Grass and on tour with Vance Joy.
Hobsons Bay Coast Guard - Tubular Swells
Just between you and me, this release has got to be up there with Moshtix HQ's faves of the year. The Melbourne outfit dish out a healthy dose of sundrenched indie-rock sounds that are guaranteed bad mood busters!
Give Hobsons Bay Coast Guard's new album a listen via Spotify.
Dirty Pixels - Reading My Lips
Hailing from Auckland, Dirty Pixels brings super sexy and dark indie rock vibes to the table with their brand new track 'Reading My Lips'. We're having a total moment listening to this one...BRB.
Listen to Dirty Pixels new track via Spotify.
CHAII - Pineapple Pizza
Thinking of ordering pizza tonight? Kiwi singer-songwriter CHAII has you sorted! Dig into her brand new EP 'Pineapple Pizza', an explosive melting pot of poppin' RnB sounds with Iranian flare.
Listen to the EP in full on Spotify.
CXLOE - New Trick
Singer-songwriter CXLOE has just released her fourth track for the year and as far as dark pop bangers go, it's certainly up there with the best of 2021. The track was written with fellow pop-powerhouses Jess Kent and Charley and features CXLOE's signature emotion-filled dark pop sound.
Give 'New Trick' a listen via Spotify.
Mashd N Kutcher - On My Mind
Electronic duo Mashd N Kutcher have just unleashed an absolutely massive hit into the wild. The track titled 'On My Mind' ticks all the right boxes in our minds, bringing 2 minutes and 11 seconds of high-energy disco groove to your earholes... Let's face it though, would it really be a Mashd N Kutcher release if it weren't an absolute dancefloor banger?
Listen to Mashd N Kutcher's new track via Spotify.
Flight Facilities ft. Your Smith - Heavy
Aussie duo Flight Facilities have released the final single from their forthcoming album 'Forever', which drops next week. The new single 'Heavy' features the dreamy raspy vocals of Your Smith (aka Caroline Smith), paired beautifully with the duo's low-key funky synth basslines.
Listen to Flight Facilities' new track via Spotify. You can also catch the duo performing the album in full on their national tour in 2022. Find out all you need to know via Moshtix.com.au.
BENEE - Doesn't Matter
We've been eagerly awaiting this release from Kiwi pop-powerhouse BENEE and it has certainly lived up to the hype and more. The single, titled 'Doesn't Matter' is the fourth release of the year from the global star and is a huge melting pot of emotions. Opting for a raw stripped-back sound, BENEE opens up about her mental health struggles faced over the ongoing lockdowns last year, something we can all relate to that's for sure!
Listen to BENEE's new single via Spotify.
Nicky Bomba - Food & Shelter
It's been a hot minute since reggae-funk-ska-roots mastermind Nicky Bomba released his last album back in 2009, but he's back and bigger than ever with his second solo album 'Food & Shelter'. The album is a wonderland of musical expression, taking you on a funk and reggae hybrid journey through the sounds of Ethiopia, Morocco and Malta.
Listen to Nicky Bomba's latest album via Spotify.
Velvet Bloom - Run
Local Melbourne neo-soul project Velvet Bloom has released their first bit of music for the year and we were blown away with the sheer volume of talent oozing out of this release. The single titled 'Run' serves as the first taste of the project's long-awaited debut EP, featuring the captivating vocals of the project's founder Maddy Herbert, backed by the chilled-out soul-driven instrumentals of fellow band members Alex Marko, Anthony Rennick and Nic Morton.
Listen to Velvet Bloom's new single 'Run' via Spotify.


RÜFÜS DU SOL - Surrender
Aussie electronic trio RÜFÜS DU SOL have just released their most exciting album yet. The new album, titled 'Surrender', is 53mins and 26 seconds of roaring electronic goodness, drenched in the trio's signature synth-driven multi-layered sound and elongated echoey vocals.
Listen to the trio's new album via Spotify.
Complicated - Winston Surfshirt ft. Young Franco
Aussie outfit Winston Surfshirt are back with their third release of the year, this time collaborating with DJ and producer extraordinaire, Young Franco. The track titled 'Complicated' is the perfect feel-good tune and has us pumped for a hot vax summer!
Listen to the outfit's new track via Spotify. The outfit are also performing at the inaugural Rolling Hills Festival at Queensland's Eatons Hill Hotel on Sat 5 March 2022. More info and tickets via Moshtix.com.au.
Emma Dilemma - Spit (Side A)
Kiwi rocker Emma Dilemma has just shared the first six songs off her forthcoming debut album. The special EP release, titled 'Spit (Side A) is bursting with playful punk-rock energy. It gets a yes from us!
Listen to Emma Dilemma's EP via Spotify.
George Alice - Mid Years
Rising singer-songwriter George Alice has returned with the release of her first original track for 2021 and it's got us wanting more. The track is the perfect mixture of soothing vocals and dancefloor-approved synthpop instrumentals. Fun fact... this track was also co-written with Alex Lahey and Gab Strum (aka Japanese Wallpaper).
Listen to George Alice's new track 'Mid Years' via Spotify. Wanna hear the track performed live? Catch George Alice at The Lansdowne Hotel in Sydney on Sat 22 January 2022. More info and tickets via Moshtix.com.au.
Jaguar Jonze - WHO DIED AND MADE YOU KING?
Okay, we're calling it, Jaguar Jonze's fierce new track 'WHO DIED AND MADE YOU KING?', is hands down THE track of 2021. The song sheds light on the singer-songwriters incredible and ongoing advocacy for victims of sexual assault and harassment in the Australian music industry. It features an ironic sample of former Sony music Australia chief executive Denis Handlin intertwined with Jonze's powerful pop-infused vocals and catchy high-energy synth-driven beat.
Listen to Jaguar Jonze's new single via Spotify.
Becca Hatch - Safety
Aussie vocalist Becca Hatch has been on our watchlist for a while now and we've been absolutely loving all the tracks the powerhouse has been releasing lately. However, her latest feat 'Safety' takes our love for her sound to the next level, serving up a killer dancefloor-worthy RnB à la jungle banger.
Listen to 'Safety' in full via Spotify.
MISSY - Major Arcana
Off the back of her 2019 EP 'Strange', Kiwi singer-songwriter MISSY aka Abigail Knudson is back in a big way in 2021, releasing her debut full-length album titled 'Major Arcana'. The album dishes out a delightful blend of dark and cinematic electronic-led dark pop sounds. Definitely, one we recommend listening to from start to finish!
Check out MISSY's debut album in full via Spotfiy.
Lévyne - Losing Sleep
Rising Kiwi artist Lévyne has just released her first track of 2021 and it is everything we hoped for. The song, titled 'Losing Sleep' is the kind of sparkly pop ballad that you could certainly dream the day away to.
Listen to Losing Sleep via Spotify.


Nik Brinkman - Secret Stairs
Kiwi artist Nik Brinkman recently dropped his debut solo album titled 'Secret Stairs' and we're completely mesmerised. This bedroom pop, indie-rock hybrid is full of warm strumming guitar notes and ultra dreamy vocals.
Listen to the album in full via Spotify.
GRAACE - Sentimental
Warning, you're going to want a box of tissues on standby when you listen to Aussie singer-songwriter GRAACE's latest track 'Sentimental'. The emotionally charged indie-rock ballad perfectly encapsulates the notion of accepting our flaws in order to permit ourselves to grow. "Once I forgave myself and others for mistakes and our pasts, I grew closer with people and suddenly felt freedom for the first time in years. I'm always going to be a sentimental person, but the biggest thing I've learnt from my early 20's is that memories are just lessons for the future," - GRAACE.
Listen to 'Sentimental' via Spotify. Want to see GRAACE performing the track IRL? Catch her at Sydney's Oxford Art Factory and Adelaide's Lion Arts Factory this November. More info and tickets via Moshtix.com.au.
Azure Ryder - Ladder To The Moon
Sydney's fave indie-pop darling Azure Ryder is back in action, dropping the title track from her forthcoming third EP, set to be released on October 29. The track is just what we needed to kickstart our work week, featuring some incredible layered vocals that ooze with raw emotion. We can't wait to listen to the rest of Ryder's EP when it drops!
Listen to Azure Ryder's new track via Spotify.
Xavier Rudd - We Deserve To Dream
Hot off the release of his single 'Stoney Creek', Xavier Rudd has shared a second single from his forthcoming tenth studio album, due for release in March 2022. The track titled 'We Deserve To Dream' is an acoustic fulled melting pot of emotions that perfectly sums up how we're all feeling right now about pandemic life. If you're a Xavier Rudd fan, this track certainly won't disappoint!
Listen to the new single via Spotify. Wanna hear the song in the flesh? Catch Xavier Rudd performing live at Queensland's Caloundra Music Festival this weekend and Bluesfest 2022 next Easter Long Weekend.
Miiesha - Price I Paid
We've been big fans of singer-songwriter Miiesha for some time now and her recent release 'Price I Paid' is a real doozy. It's the third single taken from her forthcoming double EP project, 'Smoke & Mirrors' and we're absolutely loving the raw and emotional R&B energy this song brings to the table.
Listen to Miiesha's latest single via Spotify.


InDuna - Strange Fruits
New Zealand-based artist InDuna's latest release 'Strange Fruits' is a killer melting pot of high energy rap and simplistic rhythms that really let the lyrics speak for themself. Huge vibes all around for this one!
Listen to InDuna's new single 'Strange Fruits' via Spotify.
Mo'Ju - Wave
Last week singer-songwriter Mo'Ju shared the lead song from her upcoming EP 'O.K'. It's her first single of the year and if it's anything to go by, the EP is going to be HUGE. Paired back production throughout the track really allows Mo'Ju's vocals to flourish in an electronic synth-filled R&B wonderland.
Listen to Mo'Ju's latest single 'Wave' via Spotify.
Summer Thieves - Saturday Night
NZ party starters Sumer Thieves are back in action with the release of their latest single 'Saturday Night'. The track really leans into the band's unique indie-rock sound, incorporating some groovy funk-inspired riffs for good measure. It's a yes from us!
Listen to Summer Thieves new single via Spotify.
Navvy - Rock Bottom
Watch out Dua Lipa, there's a new queen on the block! 'Rock Bottom' is the latest dark-pop bop from New Zealand's fastest rising star Navvy. This track is the perfect heartbreak anthem, seamlessly fusing a killer 80s-inspired synth-pop bassline with high energy vocals.
Listen to 'Rock Bottom' in full via Spotify.
Great Gable - Hazy
Perth four-piece Great Gable have just released their first piece of new music for 2021 and we're eager to hear more! The new single 'Hazy' is a surf-rock wonderland of sparkling guitar riffs and sun-drenched vocals that masterfully transports you straight to the most perfect sunny day laying poolside on summer vacay.
Listen to Great Gable's new single via Spotify. You can also catch them performing live across Australia and New Zealand early next year. Check out full tour dates and ticket info via the Moshtix website.
Amyl and The Sniffers - Comfort To Me
Iconic Melbourne punk outfit Amyl and The Sniffers have done it again, gifting our earholes with yet another cracking album full of chaotic, high-energy vibes. If you're having a crap day, we suggest maxing out the volume of your speakers and giving this album a spin.
Listen to Amyl and The Sniffers 'Comfort To Me' album via Spotify.
The Buoys - Lie to Me Again
Aussie all-female outfit The Buoys have shared a brand new single titled 'Lie to Me Again'. It's the first release from their forthcoming EP 'Unsolicited Advice for Your DIY Disaster' and if it's any indication of what the EP has in store for us then sign us up! The vocals throughout this track are seeped in the kind of raw emotion that instantly transports you back to that moment when you finally broke free from that shitty relationship you had in your early 20's.
Listen to The Buoys new release via Spotify.
Simona Castricum - Grateful for the Heartache
Iconic Melbourne electronic artist Simona Castricum has released her first single of 2021 titled 'Grateful for the Heartache'. The new track pays tribute to late collaborator and friend Daphne Camf and it's 100% what we all need in our lives right now. A truly heartfelt track that stays true to Castricum's multi-layered technopop sound.
Listen to Grateful for the Heartache via Spotify.
BROODS - Piece Of My Mind
Kiwi sibling duo BROODS are back in full force, dropping their first single in two years. The track titled 'Piece Of My Mind' is a synth-pop wonderland that compels you to dance around your living room like a madman.
Cop a listen to BROODS new single via Spotify.
Hallie - Lip Balm
Rising star Hallie has shared a new tongue in cheek single that is the perfect break up anthem you need in your life. Her infectious melodies, paired with playful and witty lyrics are a match made in lip balm heaven.
Listen to Hallie's single 'Lip Balm' via Spotify.
Ngaiire - 3
We're absolutely blown away by singer-songwriter Ngaiire's latest album release titled '3'. Ngaiire masterfully delivers the most powerful and honest record we've heard in a while, immersing listeners in a neo-soul wonderland.
Listen to Ngaiire's third studio album in full via Spotify. Wanna see the album performed live and in full? Catch Ngaiire on her album tour across Australia and New Zealand later this year. Visit the Moshtix website for more info.
Cosmo's Midnight - Titanic
We've got some serious summer road trip withdrawals after listening to Aussie duo Cosmo's Midnight latest release 'Titanic'. The single is the perfect funky bop that we know you've all been yearning for this year.
Listen to 'Titanic' via Spotify. You can also catch the duo performing at The Jynx House festival in November. More info and tickets via the Moshtix website.
Children Collide - Time Itself
After an almost 10 year hiatus, post-grunge trio Children Collide are back in a BIG way, dropping their fourth studio album titled 'Time Itself'. The album takes you on a rock fuelled adventure ladened with punchy drum beats and fuzzy guitar riffs.
Listen to 'Time Itself' in full via Spotify. The 3-piece have also just announced a 13-date national tour happening this November and December. Visit the Moshtix website for more info and tickets.


Jordan Rakei - Clouds
New Zealand-Australian singer-songwriter Jordan Rakei has shared his third single from his forthcoming third studio album and it has us eagerly awaiting the rest of the album which drops Fri 17 September. Rakei's new single titled 'Clouds' packs a punch, tugging on our heartstrings from the onset with his angelic vocals and raw lyrics.
Listen to Jordan Rakei's new single 'Clouds' via Spotify.
Nganeko - Facade
Off the back of her 2020 debut 'Serious', rising Aotearoa R&B singer-songwriter Nganeko has dropped a beautiful new single titled 'Facade'. The track features glistening pop-inspired vocals, accompanied by a stripped-back beat.
Listen to Nganeko's new release via Spotify.


Looking for ways to support artists through these tough times? Here are some simple ways you can help!
1. Buy some Australian and New Zealand music and merchandise directly from the artist's website or via Bandcamp.
2. Consider donating your refunds or a portion for cancelled shows to Support Act's The Sound of Silence fundraiser.
3. Spread the word and contact your fave radio station and ask them to play tracks from local acts you'd love to hear over the airwaves.
4. Buy tickets to artists rescheduled shows as soon as they become available.
Keep streaming your fave local acts on streaming services like Spotify and Apple Music!
FOR MORE BREAKING NEWS CLICK HERE