Enter An Oasis of Blue and White As Greek Island Takes Over Sydney Harbour In 2022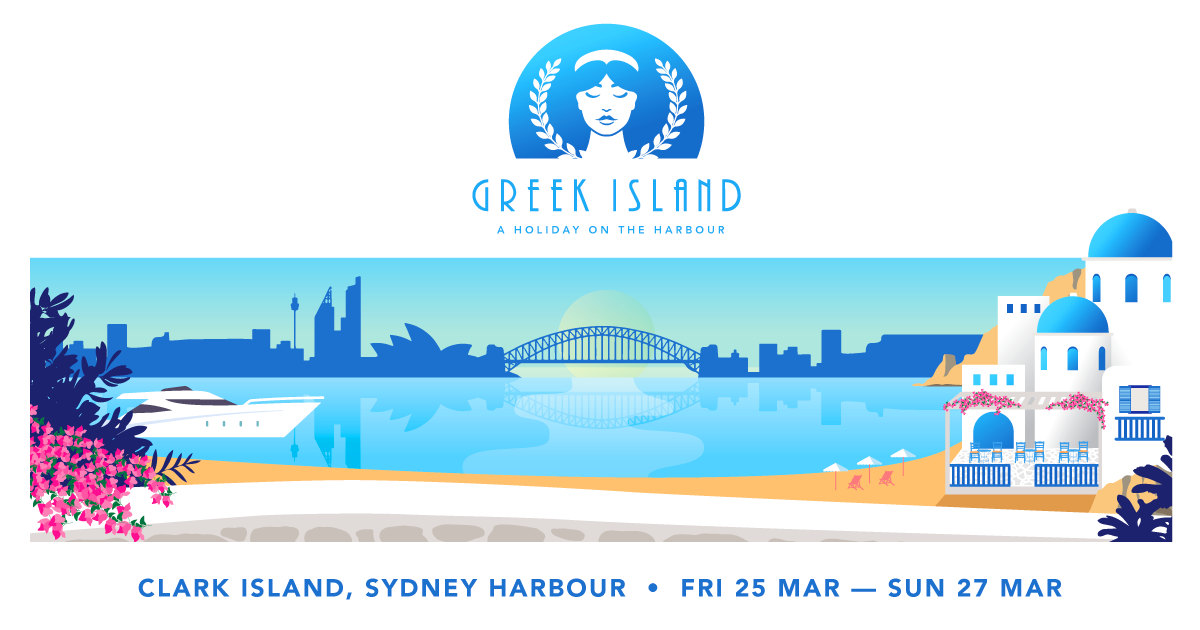 Brought to you by the crew behind the award-winning Wine Island event series, Greek Island will transform Sydney's Clark Island into an incredible Greek-inspired wonderland from Friday 25 to Sunday 27 of March.
The 3-day holiday festival will showcase an epic lineup of Greek Cuisine, imported wine, beer, spirits and bespoke cocktail bars. Holidaymakers will also be able to discover Mt Olympus for live Greek music and dancing, Santorini Spa for total relaxation or head to the Mykonos seaside stage to party with some of Australia's best DJs.
Bringing the world-famous day party vibes of Mykonos to our Greek Island will be DJs Tigerlily, Jolyon Petch and Discovery (Daft Punk Tribute).
Complimentary live cooking demos will also be on offer, pulling the lid off the secrets to the Mediterranean diet.
Tickets for Greek Island go on sale Wednesday 24 November from 12pm AEDT. Full ticket and event info below.
Greek Island
Fri 25 - Sun 27 March 2022
FOR MORE BREAKING NEWS CLICK HERE
[{"Title":"Here\u0027s Where You Can See Acts Who Made It Into The Hottest 100 Perform Live","ShortTitle":"Here\u0027s Where You Can...","Content":"\u003cp\u003eWell, here\u0027s to another weird and wonderful Hottest 100 countdown done and dusted. This year\u0027s countdown saw none other than iconic childhood favourites, The Wiggles take home the elusive #1 spot, followed closely by rising pop-sensation The Kid LAROI with his track \u0027Stay\u0027, Perth outfit and Hottest 100 veterans Spacey Jane and pop powerhouse Olivia Rodrigo.\u003c/p\u003e\u003cp\u003eAs live music begins to slowly execute its dismount off the rollercoaster ride that was the last two years, we\u0027ve compiled a list of amazing gigs and festivals where you can catch some of the artists who made this year\u0027s top 100 hit list live and in the flesh in 2022.\u0026nbsp;Check out some of the acts performing near you below.\u003c/p\u003e\u003cp\u003e\u003cbr\u003e\u003c/p\u003e\u003ch1\u003e\u003cb\u003eSpin Off Festival - SA\u003c/b\u003e\u003c/h1\u003e\u003cp\u003eHere\u0027s your opportunity to catch not one but six acts who made it onto this year\u0027s Hottest 100 list. Catch \u003cstrong\u003eGlass Animals\u003c/strong\u003e, \u003cstrong\u003eSpacey Jane\u003c/strong\u003e, \u003cstrong\u003eBall Park Music\u003c/strong\u003e, \u003cstrong\u003eGenesis Owusu\u003c/strong\u003e, \u003cstrong\u003eG Flip\u003c/strong\u003e and \u003cstrong\u003eTeenage Joans\u003c/strong\u003e at Adelaide\u0027s \u003cstrong\u003eSpin Off Festival\u003c/strong\u003e this July. First release tickets are already sold out with Second Release selling fast. Jump on a ticket ASAP via the \u003cstrong\u003e\u003ca href=\"https://moshtix.com.au/v2/event/spin-off-festival-2022/134637?ref=moshtix-news\" data-mce-href=\"https://moshtix.com.au/v2/event/spin-off-festival-2022/134637?ref=moshtix-news\"\u003eofficial Spin Off Festival 2022 ticket page\u003c/a\u003e\u003c/strong\u003e.\u003c/p\u003e\u003ciframe src=\"https://www.youtube.com/embed/_KoDcsy0bFM\" frameborder=\"0\" title=\"YouTube video player\" height=\"515\" width=\"950\" data-mce-src=\"https://www.youtube.com/embed/_KoDcsy0bFM\"\u003e\u003c/iframe\u003e\u003cp\u003e\u003cbr\u003e\u003c/p\u003e\u003ch1\u003eSplendour in the Grass - NSW\u003c/h1\u003e\u003cp\u003eThis year\u0027s \u003ca href=\"https://www.moshtix.com.au/v2/event/splendour-in-the-grass-2022/119191?ref=moshtix-news\" target=\"_blank\" data-mce-href=\"https://www.moshtix.com.au/v2/event/splendour-in-the-grass-2022/119191?ref=moshtix-news\"\u003eSplendour in the Grass\u003c/a\u003e Festival is full to the brim with the who\u0027s who from this year\u0027s countdown including the likes of\u0026nbsp;Tyler, The Creator, Glass Animals, Jack Harlow, The Jungle Giants, G Flip, Amyl \u0026amp; The Sniffers, Jungle, Ruby Fields, Baker Boy and Genesis Owusu, just to name a few. Tickets for Splendour are currently sold out, sign up for updates to be the first to find out when resale tickets become available via the \u003ca href=\"https://www.moshtix.com.au/v2/event/splendour-in-the-grass-2022/119191?ref=moshtix-news\" target=\"_blank\" data-mce-href=\"https://www.moshtix.com.au/v2/event/splendour-in-the-grass-2022/119191?ref=moshtix-news\"\u003e\u003cstrong\u003eofficial Splendour in the Grass event page\u003c/strong\u003e\u003c/a\u003e.\u003c/p\u003e\u003ciframe src=\"https://www.youtube.com/embed/XifqWdqTosI\" frameborder=\"0\" title=\"YouTube video player\" height=\"515\" width=\"950\" data-mce-src=\"https://www.youtube.com/embed/XifqWdqTosI\"\u003e\u003c/iframe\u003e\u003cp\u003e\u003cbr\u003e\u003c/p\u003e\u003ch1\u003eYours \u0026amp; Owls Festival - NSW\u003c/h1\u003e\u003cp\u003eAnother iconic festival featuring a long list of artists who made the cut this year is Yours \u0026amp; Owls Festival. Set to take place in April this year bringing crowd favourites \u003cstrong\u003ePeking Duk\u003c/strong\u003e, \u003cstrong\u003eThe Jungle Giants\u003c/strong\u003e, \u003cstrong\u003eThe Terrys\u003c/strong\u003e, \u003cstrong\u003eKing Stingray\u003c/strong\u003e and \u003cstrong\u003eRuby Fields\u003c/strong\u003e to the stage alongside a mammoth list of local and international stars. Check out the full list and tickets via the \u003ca href=\"https://www.moshtix.com.au/v2/event/yours-owls-festival-2022/131883?ref=moshtix-news\" target=\"_blank\" data-mce-href=\"https://www.moshtix.com.au/v2/event/yours-owls-festival-2022/131883?ref=moshtix-news\"\u003e\u003cstrong\u003eofficial Yours \u0026amp; Owls 2022 event page\u003c/strong\u003e\u003c/a\u003e.\u003c/p\u003e\u003ciframe src=\"https://www.youtube.com/embed/o8yvKFyGlNA\" frameborder=\"0\" title=\"YouTube video player\" height=\"515\" width=\"950\" data-mce-src=\"https://www.youtube.com/embed/o8yvKFyGlNA\"\u003e\u003c/iframe\u003e\u003cp\u003e\u003cbr\u003e\u003c/p\u003e\u003ch1\u003eRüfüs Du Sol AU Tour - NSW, QLD, VIC, SA \u0026amp; WA\u003c/h1\u003e\u003cp\u003eRüfüs Du Sol bring their larger-than-life show to stunning outdoor venues across Australia later this year, performing tracks including 'On My Knees' which took home #9 in the countdown. Check out full tour details via the\u0026nbsp;\u003ca href=\"https://www.moshtix.com.au/v2/event/rufus-du-sol/132429?ref=moshtix-news\" target=\"_blank\" data-mce-href=\"https://www.moshtix.com.au/v2/event/rufus-du-sol/132429?ref=moshtix-news\"\u003e\u003cstrong\u003eofficial Moshtix Rufus Du Sol tour page\u003c/strong\u003e\u003c/a\u003e.\u003c/p\u003e\u003cp\u003e\u003ciframe src=\"https://www.youtube.com/embed/y7fudcFIlZs\" frameborder=\"0\" title=\"YouTube video player\" height=\"515\" width=\"950\" data-mce-src=\"https://www.youtube.com/embed/y7fudcFIlZs\"\u003e\u003c/iframe\u003e\u003c/p\u003e\u003cp\u003e\u003cbr\u003e\u003c/p\u003e\u003ch1\u003eVance Joy - QLD, VIC, WA, SA, ACT, TAS, NT\u003c/h1\u003e\u003cp\u003eComing in at #15 was multi-award-winning artist Vance Joy with his track \u0027Missing Piece\u0027. Vance Joy is set to perform this track alongside his hits\u0026nbsp;Riptide, Mess is Mine, Georgia, Fire and the Flood, Lay It On Me, I\u0027m With You, Saturday Sun and\u0026nbsp;We\u0027re Going Home on his \u0027The Long Way Home Tour\u0027, kicking off this September. Vance Joy will also be joined by the likes of The Rubens, Thelma Plum, Middle Kids, Budjerah and Mia Wray throughout his tour. Find out more via the \u003ca href=\"https://www.moshtix.com.au/v2/event/vance-joy-the-long-way-home-tour/132510?ref=moshtix-news\" target=\"_blank\" data-mce-href=\"https://www.moshtix.com.au/v2/event/vance-joy-the-long-way-home-tour/132510?ref=moshtix-news\"\u003e\u003cstrong\u003eofficial Moshtix Vance Joy tour page\u003c/strong\u003e\u003c/a\u003e.\u003c/p\u003e\u003ciframe src=\"https://www.youtube.com/embed/atka_0TUTLM\" frameborder=\"0\" title=\"YouTube video player\" height=\"515\" width=\"950\" data-mce-src=\"https://www.youtube.com/embed/atka_0TUTLM\"\u003e\u003c/iframe\u003e\u003cp\u003e\u003cbr\u003e\u003c/p\u003e\u003ch1\u003eKing Stingray - NSW, ACT\u003c/h1\u003e\u003cp\u003eScoring two spots in this year\u0027s countdown (#46 \u0026amp; #56) was none other than the newly formed indie, pop-rock outfit King Stringray. Catch the Darwin-based band on their National Tour in March this year with support from Adam Newling. The band are also set to perform later in the year at Yours \u0026amp; Owls Festival, Splendour in the Grass and Ord Valley Muster\u0027s Kimberley Fine Diamonds Dinner. Find out more\u0026nbsp;\u003ca href=\"https://www.moshtix.com.au/v2/search?query=king+stingray\u0026amp;StateId=0\u0026amp;TimePeriod=6\u0026amp;FromDate=27+Jan+2022\u0026amp;FromDateDisplay=27+Jan+2022\u0026amp;ToDate=\u0026amp;ToDateDisplay=\u0026amp;CategoryList=\u0026amp;v2=0\" target=\"_blank\" data-mce-href=\"https://www.moshtix.com.au/v2/search?query=king+stingray\u0026amp;StateId=0\u0026amp;TimePeriod=6\u0026amp;FromDate=27+Jan+2022\u0026amp;FromDateDisplay=27+Jan+2022\u0026amp;ToDate=\u0026amp;ToDateDisplay=\u0026amp;CategoryList=\u0026amp;v2=0\"\u003e\u003cstrong\u003eHERE\u003c/strong\u003e\u003c/a\u003e.\u003c/p\u003e\u003ciframe src=\"https://www.youtube.com/embed/Yvg8p0wKiJo\" frameborder=\"0\" title=\"YouTube video player\" height=\"515\" width=\"950\" data-mce-src=\"https://www.youtube.com/embed/Yvg8p0wKiJo\"\u003e\u003c/iframe\u003e\u003cp\u003e\u003cbr\u003e\u003c/p\u003e\u003ch1\u003eThe Buoys - NSW, VIC\u003c/h1\u003e\u003cp\u003eComing in at #85 with their track \u0027Lie To Me Again\u0027, alt-rock 4-piece The Buoys have come leaps and bounds. You can catch the outfit performing the track live along with other tracks off their most recent EP \u0027\u003cspan\u003eUnsolicited Advice For Your DIY Disaster\u0027 in Sydney at Oxford Art Factory and in Melbourne at the Night Cat this March. The Buoys will also be hitting up some of the counties biggest festivals, Yours \u0026amp; Owls Festival and Splendour in the Grass. Book your tickets \u003ca href=\"https://www.moshtix.com.au/v2/search?query=the+buoys\u0026amp;TimePeriod=6\u0026amp;FromDate=27+Jan+2022\u0026amp;FromDateDisplay=27+Jan+2022\u0026amp;ToDate=\u0026amp;ToDateDisplay=\u0026amp;CategoryList=\u0026amp;v2=1\" target=\"_blank\" data-mce-href=\"https://www.moshtix.com.au/v2/search?query=the+buoys\u0026amp;TimePeriod=6\u0026amp;FromDate=27+Jan+2022\u0026amp;FromDateDisplay=27+Jan+2022\u0026amp;ToDate=\u0026amp;ToDateDisplay=\u0026amp;CategoryList=\u0026amp;v2=1\"\u003e\u003cstrong\u003eHERE\u003c/strong\u003e\u003c/a\u003e.\u003c/span\u003e\u003c/p\u003e\u003ciframe src=\"https://www.youtube.com/embed/pPW4Jv8fhAA\" frameborder=\"0\" title=\"YouTube video player\" height=\"515\" width=\"950\" data-mce-src=\"https://www.youtube.com/embed/pPW4Jv8fhAA\"\u003e\u003c/iframe\u003e\u003cp\u003e\u003cbr\u003e\u003c/p\u003e\u003ch1\u003eOcean Alley - NSW\u003c/h1\u003e\u003cp\u003eHottest 100 veterans Ocean Alley were once again featured on the hit list this year with their tracks \u0027Touch Back Down\u0027 and \u0027\u003cspan\u003eBreathe/Comfortably Numb/Money [triple j Like A Version]\u0027. The outfit is set to perform both tracks at Waves in Wollongong this June with support from Big Twisty \u0026amp; The Funknasty. Their first show is sold out but a handful of tickets still remain for their second show. More info and tickets \u003ca href=\"https://www.moshtix.com.au/v2/event/ocean-alley-show-two/134217?ref=moshtix-news\" target=\"_blank\" data-mce-href=\"https://www.moshtix.com.au/v2/event/ocean-alley-show-two/134217?ref=moshtix-news\"\u003e\u003cstrong\u003eHERE\u003c/strong\u003e\u003c/a\u003e.\u003c/span\u003e\u003c/p\u003e\u003ciframe src=\"https://www.youtube.com/embed/AvQQ4C201Io\" frameborder=\"0\" title=\"YouTube video player\" height=\"515\" width=\"950\" data-mce-src=\"https://www.youtube.com/embed/AvQQ4C201Io\"\u003e\u003c/iframe\u003e\u003cp\u003e\u003cbr\u003e\u003c/p\u003e","Intro":"Well, here\u0027s to another weird and wonderful Hottest 100 countdown done and dusted. This year\u0027s countdown saw none other than iconic childhood favourites, The Wiggles take home the elusive #1 spot, followed closely by rising pop-sensation The Kid LAROI with his track \u0027Stay\u0027, Perth outfit and Hottest 100...","Image":"https://static.moshtix.com.au/directory/uploads/images/Hottest%20100,%20where%20to%20see%20the%20artists%20who%20made%20this%20years%20triple%20j%20Hottest%20100%20Moshtix%20(2).png","Id":10786,"Timestamp":"01/28/2022 12:00:00","DateLong":"28th January, 2022","DateShort":"Fri 28 Jan"},{"Title":"Great Northern Darwin Cup Returns In 2022","ShortTitle":"Great Northern Darwin...","Content":"\u003cp\u003eThe Northern Territory\u0027s biggest social and sporting season returns in 2022, seeing over 40,000 racegoers enjoy all the colour, fashion and excitement of thoroughbred racing in the Top End across eight days.\u0026nbsp;\u003c/p\u003e\u003cp\u003eDarwin Turf Club chief executive officer Brad Morgan said that with borders open, interest from interstate guests has reached unprecedented levels for this time of year.\u003c/p\u003e\u003cp\u003e\u003cem\u003e\"It is very exciting to see such unprecedented interest from interstate, and we have been fielding upwards of 20 calls a day with people enquiring about the Great Northern Darwin Cup Carnival, a testament to what a great event this is for the Territory,\"\u003c/em\u003e he said.\u003c/p\u003e\u003cp\u003e\u003cem\u003e\"Events including the Bridge Toyota Ladies Day Function, Ladbrokes Let\u0027s Talk Racing Luncheon, Sportsbet Gala Ball and the Great Northern Darwin Cup will again be popular amongst punters, so I urge people to not hesitate in buying their tickets as we are expecting another complete sell-out.\"\u003c/em\u003e\u003c/p\u003e\u003cp\u003eMr Morgan also added that new inclusions from last year will only be enhanced further, giving even more patrons further opportunities to enjoy Darwin Cup Day.\u003c/p\u003e\u003cp\u003e\u003cem\u003e\"After the successful addition of The Paddock last year, capacity will double in 2022 and feature DJ entertainment, lounges, food trucks and market umbrellas during the day, before turning into the ideal after-party location for all patrons immediately after the running of the Cup.\"\u003c/em\u003e\u003c/p\u003e\u003cp\u003eThe 2022 Great Northern Darwin Cup Carnival is set to take place from Saturday 2 July until Monday 1 August 2022 with\u0026nbsp;\u003cstrong\u003etickets on sale NOW\u003c/strong\u003e. Check out the full carnival program and tickets below.\u003c/p\u003e\u003cp\u003e\u003cbr\u003e\u003c/p\u003e\u003ch1 style=\"text-align: center;\" data-mce-style=\"text-align: center;\"\u003eGreat Northern Darwin Cup Carnival\u003c/h1\u003e\u003cp style=\"text-align: center;\" data-mce-style=\"text-align: center;\"\u003eSat 2 July - Mon 1 August 2022 @ Darwin Turf Club, NT\u003c/p\u003e\u003cp style=\"text-align: center;\" data-mce-style=\"text-align: center;\"\u003e\u003cbr\u003e\u003c/p\u003e\u003cp style=\"text-align: center;\" data-mce-style=\"text-align: center;\"\u003eSat 2 July - Darwin Guineas Day\u003c/p\u003e\u003cp style=\"text-align: center;\" data-mce-style=\"text-align: center;\"\u003eSat 9 July - AUFS Chief Minister\u0027s Cup\u003c/p\u003e\u003cp style=\"text-align: center;\" data-mce-style=\"text-align: center;\"\u003eWed 13 July - Bridge Toyota Ladies\u0027 Day\u003c/p\u003e\u003cp style=\"text-align: center;\" data-mce-style=\"text-align: center;\"\u003eSat 16 July - Ladbrokes Derby Day\u003c/p\u003e\u003cp style=\"text-align: center;\" data-mce-style=\"text-align: center;\"\u003eSat 23 July - TAB Metric Mile Day\u003c/p\u003e\u003cp style=\"text-align: center;\" data-mce-style=\"text-align: center;\"\u003eWed 27 July - Darwin Corporate Park Race Day\u003c/p\u003e\u003cp style=\"text-align: center;\" data-mce-style=\"text-align: center;\"\u003eThu 28 July - Ladbrokes Let\u0027s Talk Racing Luncheon\u003c/p\u003e\u003cp style=\"text-align: center;\" data-mce-style=\"text-align: center;\"\u003eSat 30 July - bet365 Palmerston Sprint Race Day\u003c/p\u003e\u003cp style=\"text-align: center;\" data-mce-style=\"text-align: center;\"\u003eSat 30 July - Sportsbet Darwin Turf Club Gala Ball\u0026nbsp;\u003c/p\u003e\u003cp style=\"text-align: center;\" data-mce-style=\"text-align: center;\"\u003eMon 1 August - Great Northern Darwin Cup\u003c/p\u003e\u003cp style=\"text-align: center;\" data-mce-style=\"text-align: center;\"\u003e\u003cbr\u003e\u003c/p\u003e\u003ctable width=\"384\" border=\"0\" cellspacing=\"0\" cellpadding=\"0\" align=\"center\" style=\"width:384px;\" class=\"em_wrapper mceItemTable\" data-mce-style=\"width: 384px;\"\u003e\u003ctbody\u003e\u003ctr\u003e\u003ctd valign=\"top\" align=\"center\" background=\"http://www.moshtix.com.au/directory/uploads/images/CTA_MusicNews_bg_img.jpg\" style=\"background:url(http://www.moshtix.com.au/directory/uploads/images/CTA_MusicNews_bg_img.jpg) top center no-repeat; background-size:100% 100%; background-color:#57db57; height:46px;\" height=\"46\" data-mce-style=\"background: url(\u0027http://www.moshtix.com.au/directory/uploads/images/CTA_MusicNews_bg_img.jpg\u0027) top center no-repeat; background-size: 100% 100%; background-color: #57db57; height: 46px;\"\u003e\u003ctable width=\"384\" border=\"0\" cellspacing=\"0\" cellpadding=\"0\" align=\"center\" style=\"width:384px;\" class=\"em_wrapper mceItemTable\" data-mce-style=\"width: 384px;\"\u003e\u003ctbody\u003e\u003ctr\u003e\u003ctd width=\"10\" style=\"width:10px;\" data-mce-style=\"width: 10px;\"\u003e\u0026nbsp;\u003c/td\u003e\u003ctd valign=\"middle\" align=\"center\" height=\"46\" class=\"em_black\" style=\"font-size:20px; font-family:\u0027Open Sans\u0027, \u0027Helvetica Neue\u0027, Helvetica, Arial, sans-serif; color:#181818; font-weight:bold; height:46px;\" data-mce-style=\"font-size: 20px; font-family: \u0027Open Sans\u0027, \u0027Helvetica Neue\u0027, Helvetica, Arial, sans-serif; color: #181818; font-weight: bold; height: 46px;\"\u003e\u003ca href=\"https://moshtix.com.au/v2/event/great-northern-darwin-cup-carnival/134669?ref=moshtix-news\" target=\"_blank\" style=\"text-decoration:none; color:#181818; display:block; line-height:46px;\" data-mce-href=\"https://moshtix.com.au/v2/event/great-northern-darwin-cup-carnival/134669?ref=moshtix-news\" data-mce-style=\"text-decoration: none; color: #181818; display: block; line-height: 46px;\"\u003e FIND TICKETS \u003c/a\u003e\u003c/td\u003e\u003ctd width=\"10\" style=\"width:10px;\" data-mce-style=\"width: 10px;\"\u003e\u0026nbsp;\u003c/td\u003e\u003c/tr\u003e\u003c/tbody\u003e\u003c/table\u003e\u003c/td\u003e\u003c/tr\u003e\u003c/tbody\u003e\u003c/table\u003e","Intro":"The Northern Territory\u0027s biggest social and sporting season returns in 2022, seeing over 40,000 racegoers enjoy all the colour, fashion and excitement of thoroughbred racing in the Top End across eight days.\u0026nbsp;Darwin Turf Club chief executive officer Brad Morgan said that with borders open, interest...","Image":"https://static.moshtix.com.au/directory/uploads/images/Great%20Northern%20Darwin%20Cup%20Carnival%20Moshtix1.jpg","Id":10915,"Timestamp":"01/24/2022 11:15:00","DateLong":"24th January, 2022","DateShort":"Mon 24 Jan"},{"Title":"Adelaide\u0027s Spin Off Festival Returns In 2022","ShortTitle":"Adelaide\u0027s Spin Off Festival...","Content":"\u003cp\u003e\u003cstrong\u003e\u003ca href=\"https://moshtix.com.au/v2/event/spin-off-festival-2022/134637?ref=moshtix-news\" data-mce-href=\"https://moshtix.com.au/v2/event/spin-off-festival-2022/134637?ref=moshtix-news\"\u003eSpin Off Festival\u003c/a\u003e\u003c/strong\u003e returns to Adelaide Showgrounds in 2022, giving locals the opportunity to catch some of their favourite acts from Splendour In The Grass 2022.\u003c/p\u003e\u003cp\u003eThe event is set to take place on Friday 22 July and will see\u0026nbsp;British indie rockers \u003cb\u003eGlass Animals\u003c/b\u003e,\u0026nbsp;US rapper\u0026nbsp;\u003cb\u003eJack Harlow,\u003c/b\u003e Perth favourites \u003cb\u003eSpacey Jane\u003c/b\u003e, and Brissy five-piece \u003cb\u003eBall Park Music\u003c/b\u003e perform alongside crowd favourites \u003cb\u003eG Flip\u003c/b\u003e, \u003cb\u003eOliver Tree\u003c/b\u003e, \u003cb\u003eTate Mcrae\u003c/b\u003e, \u003cb\u003eGenesis Owusu\u003c/b\u003e, \u003cb\u003eThe Chats\u003c/b\u003e, \u003cb\u003eBeddy Rays\u003c/b\u003e and \u003cb\u003eTeenage Joans\u003c/b\u003e.\u003c/p\u003e\u003cp\u003eTickets for Spin Off Festival is on sale now. Check out the full lineup, ticket info and FAQ\u0027s below.\u003c/p\u003e\u003cp\u003e\u003cbr\u003e\u003c/p\u003e\u003ch1 align=\"center\"\u003e\u003cb\u003eSpin Off Festival\u003c/b\u003e\u003c/h1\u003e\u003cp align=\"center\"\u003e\u003cstrong\u003eFriday 22 July 2022 | Adelaide Showgrounds, SA\u003c/strong\u003e\u003c/p\u003e\u003cp align=\"center\"\u003e\u003cbr\u003e\u003c/p\u003e\u003cp align=\"center\"\u003eGlass Animals | Jack Harlow | Spacey Jane\u003c/p\u003e\u003cp align=\"center\"\u003eBall Park Music | G Flip | Oliver Tree\u003c/p\u003e\u003cp align=\"center\"\u003eTate Mcrae | Genesis Owusu | The Chats\u003c/p\u003e\u003cp align=\"center\"\u003eBeddy Rays | Teenage Joans\u003c/p\u003e\u003cp align=\"center\"\u003e\u003cbr\u003e\u003c/p\u003e\u003ctable width=\"384\" border=\"0\" cellspacing=\"0\" cellpadding=\"0\" align=\"center\" style=\"width: 384px;\" class=\"em_wrapper mceItemTable\" data-mce-style=\"width: 384px;\"\u003e\u003ctbody\u003e\u003ctr\u003e\u003ctd valign=\"top\" align=\"center\" background=\"http://www.moshtix.com.au/directory/uploads/images/CTA_MusicNews_bg_img.jpg\" style=\"background: url(\u0027http://www.moshtix.com.au/directory/uploads/images/CTA_MusicNews_bg_img.jpg\u0027) top center no-repeat; background-size: 100% 100%; background-color: #57db57; height: 46px;\" height=\"46\" data-mce-style=\"background: url(\u0027http://www.moshtix.com.au/directory/uploads/images/CTA_MusicNews_bg_img.jpg\u0027) top center no-repeat; background-size: 100% 100%; background-color: #57db57; height: 46px;\"\u003e\u003ctable width=\"384\" border=\"0\" cellspacing=\"0\" cellpadding=\"0\" align=\"center\" style=\"width: 384px;\" class=\"em_wrapper mceItemTable\" data-mce-style=\"width: 384px;\"\u003e\u003ctbody\u003e\u003ctr\u003e\u003ctd width=\"10\" style=\"width: 10px;\" data-mce-style=\"width: 10px;\"\u003e\u0026nbsp;\u003c/td\u003e\u003ctd valign=\"middle\" align=\"center\" height=\"46\" class=\"em_black\" style=\"font-size: 20px; font-family: \u0027Open Sans\u0027, \u0027Helvetica Neue\u0027, Helvetica, Arial, sans-serif; color: #181818; font-weight: bold; height: 46px;\" data-mce-style=\"font-size: 20px; font-family: \u0027Open Sans\u0027, \u0027Helvetica Neue\u0027, Helvetica, Arial, sans-serif; color: #181818; font-weight: bold; height: 46px;\"\u003e\u003ca href=\"https://moshtix.com.au/v2/event/spin-off-festival-2022/134637?ref=moshtix-news\" target=\"_blank\" style=\"text-decoration: none; color: #181818; display: block; line-height: 46px;\" data-mce-href=\"https://moshtix.com.au/v2/event/spin-off-festival-2022/134637?ref=moshtix-news\" data-mce-style=\"text-decoration: none; color: #181818; display: block; line-height: 46px;\"\u003e On Sale Now\u003c/a\u003e\u003c/td\u003e\u003ctd width=\"10\" style=\"width: 10px;\" data-mce-style=\"width: 10px;\"\u003e\u0026nbsp;\u003c/td\u003e\u003c/tr\u003e\u003c/tbody\u003e\u003c/table\u003e\u003c/td\u003e\u003c/tr\u003e\u003c/tbody\u003e\u003c/table\u003e\u003ch2\u003e\u003cbr\u003e\u003c/h2\u003e\u003ciframe src=\"https://www.youtube.com/embed/9nrEaHinGmY\" frameborder=\"0\" title=\"YouTube video player\" height=\"515\" width=\"950\" data-mce-src=\"https://www.youtube.com/embed/9nrEaHinGmY\"\u003e\u003c/iframe\u003e\u003cp\u003e\u003cbr\u003e\u003c/p\u003e\u003ch1\u003e\u003cb\u003eHere\u0027s everything you need to know about Spin Off Festival.\u003c/b\u003e\u003c/h1\u003e\u003cp\u003e\u003cbr\u003e\u003c/p\u003e\u003cp\u003e\u003cb\u003eWhen do Spin Off Festival tickets go on sale?\u003c/b\u003e\u003c/p\u003e\u003cp\u003eTickets for Spin Off Festival are on sale now\u003c/p\u003e\u003cp\u003e\u003cbr\u003e\u003c/p\u003e\u003cp\u003e\u003cb\u003eWhen is Spin Off Festival?\u003c/b\u003e\u003c/p\u003e\u003cp\u003eSpin Off Festival will take place Friday 22 July from 10.30am until 11pm ACDT at Adelaide Showground (Goodwood Rd, Wayville, SA 5034).\u003c/p\u003e\u003cp\u003e\u003cbr\u003e\u003c/p\u003e\u003cp\u003e\u003cb\u003eWho is on the Spin Off Festival lineup?\u003c/b\u003e\u003c/p\u003e\u003cp\u003eSpin Off Festival 2022 will feature Glass Animals, Jack Harlow, Spacey Jane, Ball Park Music, G Flip, Oliver Tree, Tate Mcrae, Genesis Owus, The Chats, Beddy Rays and Teenage Joans.\u003c/p\u003e\u003cp\u003e\u003cbr\u003e\u003c/p\u003e\u003cp\u003e\u003cb\u003eIs Spin Off an all-ages event?\u003c/b\u003e\u003c/p\u003e\u003cp\u003eYep it sure is! Minors aged 16 and over may attend the event unsupervised. Those aged 15 or under must be accompanied by a responsible adult for the duration of the festival. A responsible adult may only accompany a maximum of 3 patrons aged 15 and under.\u003c/p\u003e\u003cp\u003e\u003cbr\u003e\u003c/p\u003e\u003cp\u003e\u003cb\u003eHow many tickets can I buy in one transaction?\u003c/b\u003e\u003c/p\u003e\u003cp\u003eYou can buy a maximum of 2 VIP or 10 GA tickets per transaction.\u003c/p\u003e\u003cp\u003e\u003cbr\u003e\u003c/p\u003e\u003cp\u003e\u003cstrong\u003eWhat does the VIP ticket get me?\u003c/strong\u003e\u003c/p\u003e\u003cp\u003eA VIP ticket will let you skip lines on entry, bar, toilets and more so you can spend more time watching your favourite acts on stage.\u003c/p\u003e\u003cp\u003e\u003cbr\u003e\u003c/p\u003e\u003cp\u003e\u003cb\u003eWhat payment options are available?\u003c/b\u003e\u003c/p\u003e\u003cp\u003eMoshtix accepts all major credit cards.\u0026nbsp;Want to pay in instalments? You can now use LatitudePay (AU) to purchase your tickets and pay them off over 10 weekly payments.\u003c/p\u003e\u003cp\u003e\u003cbr\u003e\u003c/p\u003e\u003cp\u003e\u003cb\u003eHow and when will I receive my tickets?\u003c/b\u003e\u003c/p\u003e\u003cp\u003eAll tickets purchased through Moshtix are now digital, meaning you can easily access your tickets on your phone\u0027s web browser in My Account on the Moshtix website. Please note tickets for this event are currently suppressed and will be sent out closer to the event date. This is to avoid ticket scalpers from replicating the tickets and unlawfully reselling them.\u003c/p\u003e\u003cp\u003e\u003cbr\u003e\u003c/p\u003e\u003cp\u003e\u003cb\u003eIs there a carer/companion card policy?\u003c/b\u003e\u003c/p\u003e\u003cp\u003eYes. Carer cards will be accepted. After the initial ticket has been purchased please email details and a copy of the carer card to our Fan Experience Team via \u003cstrong\u003e\u003ca href=\"https://tixsupport.moshtix.com.au/\" data-mce-href=\"https://tixsupport.moshtix.com.au/\" target=\"_blank\"\u003ehttps://tixsupport.moshtix.com.au\u003c/a\u003e\u003c/strong\u003e\u0026nbsp;so we can organise an additional free ticket.\u003c/p\u003e\u003cp\u003e\u003cbr\u003e\u003c/p\u003e\u003cp\u003e\u003cstrong\u003eIs Spin Off Festival accessible?\u003c/strong\u003e\u003c/p\u003e\u003cp\u003eAll areas of the venue are accessible by ramps and lifts with all floors being asphalt or concrete, with the exception of one small grassed area. Wheelchair-friendly toilets will also be available on-site and a viewing platform will be present at the main stage. Disabled parking bays will also be available.\u0026nbsp;\u003c/p\u003e\u003cp\u003e\u003cbr\u003e\u003c/p\u003e\u003cp\u003e\u003cb\u003eHow do I resell my ticket?\u003c/b\u003e\u003c/p\u003e\u003cp\u003eOur resale facility is currently not available for Spin Off Festival. If you wish to change any details on your ticket please send a request to our Fan Experience Team via \u003cstrong\u003e\u003ca href=\"https://tixsupport.moshtix.com.au/\" data-mce-href=\"https://tixsupport.moshtix.com.au/\" target=\"_blank\"\u003ehttps://tixsupport.moshtix.com.au\u003c/a\u003e\u003c/strong\u003e.\u003c/p\u003e\u003cp\u003e\u003cbr\u003e\u003c/p\u003e\u003cp\u003eFor full FAQ\u0027s visit \u003cstrong\u003e\u003ca data-mce-href=\"https://spinoffadelaide.com.au/faqs\" href=\"https://spinoffadelaide.com.au/faqs\" target=\"_blank\"\u003espinoffadelaide.com.au/faqs\u003c/a\u003e\u003c/strong\u003e\u003c/p\u003e","Intro":"Spin Off Festival returns to Adelaide Showgrounds in 2022, giving locals the opportunity to catch some of their favourite acts from Splendour In The Grass 2022.The event is set to take place on Friday 22 July and will see\u0026nbsp;British indie rockers Glass Animals,\u0026nbsp;US rapper\u0026nbsp;Jack Harlow, Perth...","Image":"https://static.moshtix.com.au/directory/uploads/images/spinoff_moshtix_1200x630.jpg","Id":10913,"Timestamp":"01/24/2022 06:00:00","DateLong":"24th January, 2022","DateShort":"Mon 24 Jan"},{"Title":"8 Rising Australian And New Zealand Artists That Should Be On Your Radar In 2022","ShortTitle":"8 Rising Australian And...","Content":"\u003cp\u003eAs the local music industry batten down the hatches for another wonderfully wild and bumpy year, team Moshtix is shining a light on our fave up-and-coming artists from across Australia and New Zealand that you ought to keep your eyes on in 2022. Check out our top 8 local artists to watch this year below.\u003c/p\u003e\u003cp\u003e\u003cbr\u003e\u003c/p\u003e\u003ciframe src=\"https://open.spotify.com/embed/playlist/1WDHAZkovEPj4hFcrQDRL5?utm_source=generator\" frameborder=\"0\" height=\"250\" width=\"100%\" data-mce-src=\"https://open.spotify.com/embed/playlist/1WDHAZkovEPj4hFcrQDRL5?utm_source=generator\"\u003e\u003c/iframe\u003e\u003cp\u003e\u003cbr\u003e\u003c/p\u003e\u003ch1\u003e\u003cb\u003eSesame Girl\u003c/b\u003e\u003c/h1\u003e\u003cp\u003eWe\u0027re huge fans of Canberra\u0027s hottest new dream-pop four-piece Sesame Girl. Their uniquely honest and oh-so-dreamy pop sound has seen the outfit deliver two well-received singles in 2021. With a rumored EP on the horizon for 2022, we\u0027ll be keeping a close eye on this Canberra outfit this year, that\u0027s for sure!\u003c/p\u003e\u003cp\u003eCheck out Sesame Girl via\u0026nbsp;\u003cb\u003e\u003ca href=\"https://open.spotify.com/artist/1M0AUiCvSkRu9wBC3z2wBX?si=8qqphhEaR7yxDbJKBCav1g\" data-mce-href=\"https://open.spotify.com/artist/1M0AUiCvSkRu9wBC3z2wBX?si=8qqphhEaR7yxDbJKBCav1g\"\u003eSpotify\u003c/a\u003e\u003c/b\u003e.\u003c/p\u003e\u003ciframe src=\"https://www.youtube.com/embed/jno3yFat_-Y\" frameborder=\"0\" title=\"YouTube video player\" height=\"515\" width=\"950\" data-mce-src=\"https://www.youtube.com/embed/jno3yFat_-Y\"\u003e\u003c/iframe\u003e\u003cp\u003e\u003cbr\u003e\u003c/p\u003e\u003ch1\u003e\u003cb\u003eMizuki\u003c/b\u003e\u003c/h1\u003e\u003cp\u003eLate last year singer-songwriter Mizuki released her new single \u0027How Far We\u0027ve Come\u0027, following on from her debut single in 2020. The Melbourne-based, Sydney-born artist draws on her Japanese heritage and journey of self-discovery to produce a summer-infused buttery pop sound. While only two singles deep, Mizuki is proving to be one rising star to watch in 2022.\u003c/p\u003e\u003cp\u003eListen to Mizuki\u0027s latest release via\u0026nbsp;\u003cb\u003e\u003ca href=\"https://open.spotify.com/track/7voaVp5u0HdNDuNcSMg9mS?si=0093309f0e724349\" data-mce-href=\"https://open.spotify.com/track/7voaVp5u0HdNDuNcSMg9mS?si=0093309f0e724349\"\u003eSpotify\u003c/a\u003e.\u003c/b\u003e\u003c/p\u003e\u003ciframe src=\"https://www.youtube.com/embed/zGXNbqSPtSw\" frameborder=\"0\" title=\"YouTube video player\" height=\"515\" width=\"950\" data-mce-src=\"https://www.youtube.com/embed/zGXNbqSPtSw\"\u003e\u003c/iframe\u003e\u003cp\u003e\u003cbr\u003e\u003c/p\u003e\u003ch1\u003e\u003cb\u003eKYE\u003c/b\u003e\u003c/h1\u003e\u003cp\u003e2021 was a solid year for neo-soul angel KYE, collaborating with the likes of Jerome Farah and Sampa the Great on tracks that feature on her debut EP titled \u0027Good company\u0027. The Melbourne-based, Zimbabwe-born and London-raised singer-songwriter brings huge pop dusted R\u0026amp;B/ neo-soul vibes to the table, a necessary addition to your hit list this year!\u003c/p\u003e\u003cp\u003eCheck out KYE via\u0026nbsp;\u003cb\u003e\u003ca href=\"https://open.spotify.com/artist/7aD0vAhYP5JsPQPgrd76bp?si=w5xlz5rlSO-_9ibaN-t52g\" data-mce-href=\"https://open.spotify.com/artist/7aD0vAhYP5JsPQPgrd76bp?si=w5xlz5rlSO-_9ibaN-t52g\"\u003eSpotify\u003c/a\u003e\u003c/b\u003e.\u003c/p\u003e\u003ciframe src=\"https://www.youtube.com/embed/3b74J0cQZBI\" frameborder=\"0\" title=\"YouTube video player\" height=\"515\" width=\"950\" data-mce-src=\"https://www.youtube.com/embed/3b74J0cQZBI\"\u003e\u003c/iframe\u003e\u003cp\u003e\u003cbr\u003e\u003c/p\u003e\u003ch1\u003e\u003cb\u003eHobsons Bay Coast Guard\u003c/b\u003e\u003c/h1\u003e\u003cp\u003eIf you\u0027re not familiar with Melbourne locals Hobsons Bay Coast Guard, then this is your sign to go check them out. After making their debut in 2019, the coast-busting 5-piece have delivered two amazing albums jam-packed with groovy sundrenched coastal indie rock sounds. Their latest album \u0027Tubular Swells\u0027 is a particular favourite in the Moshtix office!\u003c/p\u003e\u003cp\u003eCheck out Hobsons Bay Coast Guard\u0027s music via \u003cb\u003e\u003ca href=\"https://open.spotify.com/artist/1O61SlnNkNBa462CstztiY?si=gWMoBp_9T8aplBVB50Vd_w\" data-mce-href=\"https://open.spotify.com/artist/1O61SlnNkNBa462CstztiY?si=gWMoBp_9T8aplBVB50Vd_w\"\u003eSpotfiy\u003c/a\u003e\u003c/b\u003e.\u003c/p\u003e\u003ciframe src=\"https://www.youtube.com/embed/5cQ9FB_or0g\" frameborder=\"0\" title=\"YouTube video player\" height=\"515\" width=\"950\" data-mce-src=\"https://www.youtube.com/embed/5cQ9FB_or0g\"\u003e\u003c/iframe\u003e\u003cp\u003e\u003cbr\u003e\u003c/p\u003e\u003ch1\u003e\u003cb\u003eMoktar\u003c/b\u003e\u003c/h1\u003e\u003cp\u003eEstablished Egyptian-Australian DJ turned producer, Moktar, popped up on our radar last year after dropping his debut self-titled EP last. The EP is a beautiful culmination of 10 years of music-making, used as a way for the Melbourne-based producer to communicate his story and collaborate with other like-minded artists. Moktar infuses Arabic percussion with contemporary club sounds to create a truly special collection of tracks.\u003c/p\u003e\u003cp\u003eGive Moktar\u0027s EP a listen via\u0026nbsp;\u003cb\u003e\u003ca href=\"https://open.spotify.com/album/0qIqHQUoLP8UTz2kVXQq88?si=6Al8O9aMT6agqumLP8QXFw\" data-mce-href=\"https://open.spotify.com/album/0qIqHQUoLP8UTz2kVXQq88?si=6Al8O9aMT6agqumLP8QXFw\"\u003eSpotify\u003c/a\u003e\u003c/b\u003e.\u003c/p\u003e\u003ciframe src=\"https://www.youtube.com/embed/9vUUfKQqaLk\" frameborder=\"0\" title=\"YouTube video player\" height=\"515\" width=\"950\" data-mce-src=\"https://www.youtube.com/embed/9vUUfKQqaLk\"\u003e\u003c/iframe\u003e\u003cp\u003e\u003cbr\u003e\u003c/p\u003e\u003ch1\u003e\u003cb\u003eGlass Beams\u003c/b\u003e\u003c/h1\u003e\u003cp\u003eGlass Beams has to be the biggest enigma to come out of 2021. A band or solo act... we\u0027re not quite sure but all we know is that it certainly adds to the mystique of Melbourne\u0027s MVP of the year. The cinematic dusty jazz sound that permeates from the onset of their debut album \u0027Mirage\u0027 has us hooked.\u003c/p\u003e\u003cp\u003eGive Glass Beams\u0027 debut album a listen via\u003cb\u003e \u003ca href=\"https://open.spotify.com/album/45yGFEPm310zjAc1psZzEv?si=N27po4esQiueSn1ww8syRA\" data-mce-href=\"https://open.spotify.com/album/45yGFEPm310zjAc1psZzEv?si=N27po4esQiueSn1ww8syRA\"\u003eSpotify\u003c/a\u003e\u003c/b\u003e.\u003c/p\u003e\u003ciframe src=\"https://www.youtube.com/embed/IVzF8k4ZK9E\" frameborder=\"0\" title=\"YouTube video player\" height=\"515\" width=\"950\" data-mce-src=\"https://www.youtube.com/embed/IVzF8k4ZK9E\"\u003e\u003c/iframe\u003e\u003cp\u003e\u003cbr\u003e\u003c/p\u003e\u003ch1\u003e\u003cb\u003eKiki Rockwell\u003c/b\u003e\u003c/h1\u003e\u003cp\u003eKiki Rockwell is the former frontwoman of Auckland-based indie outfit The Leers. Rockwell made her solo debut in October last year, releasing the debut single \u0027Left For Dead\u0027. Since her debut, the singer-songwriter has released an incredible EP and subsequent single, injecting an otherworldly folksy haze into the music scene.\u003c/p\u003e\u003cp\u003eListen to Kiki Rockwell\u0027s latest releases via \u003cb\u003e\u003ca href=\"https://open.spotify.com/artist/5HuKMWteBRI09tWyKeQE1F?si=YoJXbbBhSyqlTk4R25oYYA\" data-mce-href=\"https://open.spotify.com/artist/5HuKMWteBRI09tWyKeQE1F?si=YoJXbbBhSyqlTk4R25oYYA\"\u003eSpotify\u003c/a\u003e\u003c/b\u003e.\u003c/p\u003e\u003ciframe src=\"https://www.youtube.com/embed/MZDWqU8LAMU\" frameborder=\"0\" title=\"YouTube video player\" height=\"515\" width=\"950\" data-mce-src=\"https://www.youtube.com/embed/MZDWqU8LAMU\"\u003e\u003c/iframe\u003e\u003cp\u003e\u003cbr\u003e\u003c/p\u003e\u003ch1\u003e\u003cb\u003eBanks Arcade\u003c/b\u003e\u003c/h1\u003e\u003cp\u003eNew blood is seeping into Australia\u0027s heavy music scene in the form of Kiwi-born, Melbourne-based heavy band, Banks Arcade. After relocating to Melbourne last year, the outfit has continued to reach new heights. Their most recent release \u0027Smile\u0027 is a melting pot of angsty melodic vocals, sensational sliding electric guitar solos, and emotion-filled breakdowns.\u003c/p\u003e\u003cp\u003eGive Banks Arcade a listen via \u003ca href=\"https://open.spotify.com/artist/0dPpBOzonBzIhl7EoLnj3D?si=u7efiBvcT8C-hqt727V8YA\" target=\"_blank\" data-mce-href=\"https://open.spotify.com/artist/0dPpBOzonBzIhl7EoLnj3D?si=u7efiBvcT8C-hqt727V8YA\"\u003e\u003cstrong\u003eSpotify\u003c/strong\u003e\u003c/a\u003e.\u003c/p\u003e\u003ciframe src=\"https://www.youtube.com/embed/7veVr6lc2Vc\" frameborder=\"0\" title=\"YouTube video player\" height=\"515\" width=\"950\" data-mce-src=\"https://www.youtube.com/embed/7veVr6lc2Vc\"\u003e\u003c/iframe\u003e\u003cp\u003e\u003cb\u003e\u0026nbsp;\u003c/b\u003e\u003c/p\u003e\u003cp\u003e\u003cb\u003e\u0026nbsp;\u003c/b\u003e\u003c/p\u003e","Intro":"As the local music industry batten down the hatches for another wonderfully wild and bumpy year, team Moshtix is shining a light on our fave up-and-coming artists from across Australia and New Zealand that you ought to keep your eyes on in 2022. Check out our top 8 local artists to watch this year below.Sesame...","Image":"https://static.moshtix.com.au/directory/uploads/images/Summer%20of%20Mosh%20new%20for%202022%20-%20Australian%20and%20New%20Zealand%20artists%20to%20check%20out%20in%202022%20(2).png","Id":10914,"Timestamp":"01/21/2022 14:00:00","DateLong":"21st January, 2022","DateShort":"Fri 21 Jan"}]